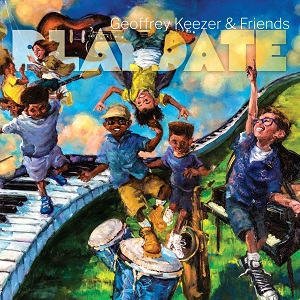 12 August 2022
Pianist/composer Geoffrey Keezer has thirty years' worth of records to his name, released both independently and on respected jazz labels like Blue Note, Sunnyside and Telarc – not to mention sideperson work with titans like Art Blakey, Christian McBride, Art Farmer and Ray Brown. All of which is to say: the dude has history, even if his name doesn't ring much of a bell. Playdate is, in fact, his twenty-third LP, and given its high quality, it's a mystery why Keezer hasn't dominated Downbeat polls in the past.
Casting a wide net, Keezer brings a swath of influences – hard bop, fusion, postbop, third stream – to his music. Joined by saxophonist Ron Blake, drummer Kendrick Scott, organist Shedrick Mitchell and bassist Richie Goods, Keezer opens the record with the sound of an orchestra playing what's essentially an overture to the expansive tune "Refuge," the tuneful flavor of which sets the tone for the rest of the record. Indeed, though packed with expert improvisations and rich harmonies, tunes like Mitchell's "Bebah" and Keezer's "I.L.Y.B.D." fix their gaze on the melodies without shame or obfuscation. That goes double for Mitchell's tender ballad "Her Look, Her Touch" and a lively take on the Brothers Johnson's "Tomorrow," both of which bring just the right touch of sentimentality to the table.
Keezer & Friends conclude the album with the groovy soul jazz of "M's Bedtime Blues," which appropriately lets Mitchell and Blake loose while the leader keeps the melody rolling until his own key-busting solo. Distinguishing himself as much as a bandleader as a musician, Keezer puts Playdate in the top tier of jazz records in 2022.