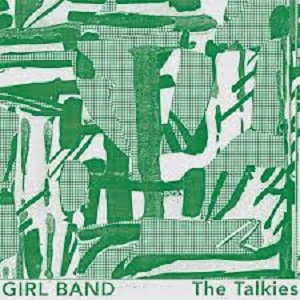 10 December 2020
One of the most incendiary bands rooted in Irish soil return this year with a new album. The explosive Girl Band. Perhaps the most important band from the emerald isle since My Bloody Valentine. They have created a sound unlike anything else, and will follow up their 2015 debut Holding Hands With Jamie on September 27 with the aptly titled The Talkies. Girl Band are Dara Kiely (vocals),Daniel Fox (bass) Adam Faulkner (drums) and Alan Duggan (guitar), The Talkies was produced by the latter Alan Duggan.
The four-piece have also delivered a unique peek at the sound to expect in the sonic driven single "Shoulderblades" (included below). An unsettling attack of intensity, wholly a beast of their own creation as the noise rock both ascends and descends upon itself with a bombastic groove. In their absence, the green shoots of their influence has shown up in the band of the moment Fontaines D.C. But the very instigators of the sound are back and hungry to make their mark once more. 
Recorded In November 2018 at Ballintubbert House, a stately home on the outskirts of Dublin.Alan Duggan underlines this thought with regard to using your surroundings: "In many ways the idea behind the album was to make an audio representation of the house" -Daniel continues – "We recorded all the drums twice: once on the landing and once in the cellar, and during production we could actually cut in between both these sounds."
In support of The Talkies a selection of dates in the US, UK and Europe have been announced (included below. This could very well be the release to watch this year, by the band of the moment.
Album Track listing 
Prolix
Going Norway
Shoulderblades
Couch Combover
Aibophobia
Salmon of Knowledge
Akineton
Amygdala
Caveat
Laggard
Prefab Castle
Ereignis
USA Dates 
2nd Oct – Chicago – Beat Kitchen 
4th Oct – Allston, MA – Great Scott 
5th Oct – Philly, PA – Boot and Saddle 
6th Oct – Washington, DC – Songbyrd, DC
8th Oct – Brooklyn, NY – Elsewhere 
UK/ EU Dates
2nd Nov – Manchester – Academy 2
5th Nov – London – Electric Ballroom
7th Nov – Brussels – Botanique
10th Nov – Utrecht – Le Guess Who 
12th Nov – Berlin – Lido 
14th Nov – La Maroquinerie – Paris
22nd Nov – Vicar Street – Dublin 
23rd Nov – Vicar Street – Dublin