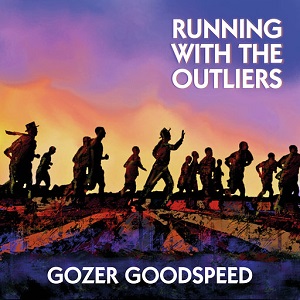 30 October 2019
Plymouth-based musician Gozer Goodspeed continues to surprise, pulling out all the stops as he prepares to release his latest album. Running with the Outliers . Due to land November 15th, it is a release that is both highly anticipated and fueled with interest. On the back of some rather acclaimed Ep's of folk-indie styling- The Barrel Headlong Into The Night (2017) and the equally impressive Impossible To Pick Up , a long-player has been long overdue. With a twist in the recording process for Running with the Outliers, Gozer used a band to fatten the sound, give a deeper dimension to his work, and spontaneously create a sound to hammer home his emotionally drenched music with an in-your-face presentation. 
Of the seven-tracks on offer the themes this talented musician has created are faithfully enjoyable. Opening with the direct gravel soaked grace of the title track. It rolls along like a machine that's just been started for the first time. The crunching guitars and uplifting lyrics set the scene perfectly, with shades of Bob Dylan flung into a nineties rock phase. A bluesy approach is present within the groove of "Gambler's Last Day". With an addictive riff the song is Gozer stripped down and walking in a very comfortable skin. There is still that folk-blend surfacing in particular on "Pumas And Neon Signs". A dreamy vibe which hinges on the acoustic guitar that chugs along, as the artist provides deep unrelenting imagery that impresses with each listen. 
The ballad-style "King Point Marina" showcases the troubadour best, without the use of a full band he can still create a caustic atmosphere. This runs into the uplifting "February Almost Broke Me" sizzles alongwith a thumping rhythm, this is solid music, enjoyable with an urgency that is electrifying and a passion that is undeniable. Closing out the set with "This Is The Pathway", the most minimalistic of the set, regardless of how Gozer presents his songs they still retain a quality of awareness within his alluring talent. But the journey of this track twists and turns with a climax of chorus and electric instruments. 
Running with the Outliers is without doubt, a savagely good listen, appealing to old-school fans and youth filled angst respectfully. As with his breakaway from the acoustic form into an expanded situation to present his music, this album feels like a turning point for Gozer Goodspeed into a new chapter and a new musical adventure to bring him further into the ears of a new-found audience. 
Tracklist; 
​1. RUNNING WITH THE OUTLIERS 
2. GAMBLER'S LAST DAY 
3. PUMAS AND NEON SIGNS 
4. IF NOT YOURSELF, WHO DO YOU THINK WILL SAVE YOU?
5. KING POINT MARINA 
6. FEBRUARY ALMOST BROKE ME 
7. THIS IS THE PATHWAY
For More Info;
Website
Facebook