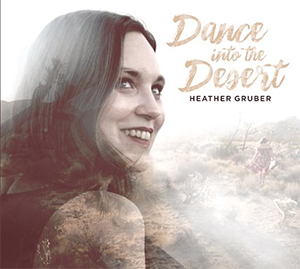 5 February 2019
Heather Gruber is an indie folk pop artist who lives in Los Angeles, but she grew in the hills of East Tennessee and it is these roots which lend an authentic country-tinged twang to everything from her voice to her songwriting. Her new album Dance Into The Desert is a fun-filled, optimistic collection of ukulele-driven pop moments—little snapshots that together form something which is ultimately more ambitious than at first glance, and making her stand out as a unique voice in a lineage of singer-songwriters like Regina Spektor and Sara Barielles.
The modus operandi of Dance Into The Desert is a celebration of life through the expression of pure, unadulterated joy, but it's not a celebration detached from reality. Every moment is firmly rooted in an acknowledgement of life's trials and tribulations, and these songs are meant to lift up the listener. The lead single "Stepped Outside" is a perfect example of sugary optimism in the face of adversity, but there are also more pensive, intimate moments like the reflective "Lost My Halo" or the soulful, deeply moving "Running On Empty."
Dance Into The Desert is a remarkable debut album which encloses a large amount of craft and attention to detail within a deceivingly modest pop format.