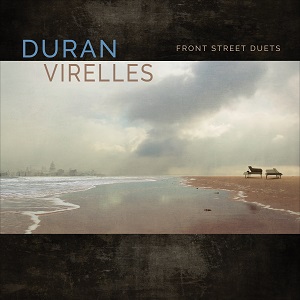 31 October 2022
Two generations of Cuban jazz pianists come together for Front Street Duets. Havana-bred/Toronto-based Hilario Durán is a legendary figure in Cuban jazz, leading big bands and small combos, while David Virelles, whose origin is Santiago de Cuba but whose home is New York City, is one of the best and most acclaimed ivory ticklers around in any permutation.
With a ton of mutual respect flowing between the two pianists, it's no surprise that there's some telepathic communication going on. Each man commands a melodic approach of his own to each tune, but does so by complementing his peer, rather than obscuring him. Just listen to "Punto Cubano #1," a Durán composition that rollicks and rolls in such a way that you could pull each player's arrangement to the side and have a perfectly fine song – yet it's hard to manage not hearing them together. Or Calixto Verona's "La Malanga," an equally effervescent tune that finds each musician simultaneously expressing themselves without stepping on toes. Written by Durán especially for Virelles, "David's Tumbao" simply radiates joy as both men dance around each other with grace and fire. Indeed, if anything most soaks this record, it's the obvious delight Durán and Virelles have in playing together.
Cuban music has its share of melancholy, but it often radiates pure bliss. Clearly that was the direction taken here, making Front Street Duets as exhilarating to listen to as it obviously was to make.