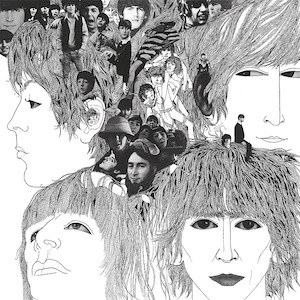 28 October 2022
Is there a "best" Beatles album? Of course not, but everyone's entitled to a favorite. Although Sgt. Pepper's Lonely Hearts Club Band long seemed like a pinnacle for the Fab Four, it has not aged well. Despite memorable songs such as "A Day in the Life" and "With a Little Help from My Friends," this 1967 showstopper feels increasingly contrived as time goes by, a self-conscious epic overly concerned with flashy presentation.
Its predecessor, however, still satisfies fully. Released in 1966, Revolver built on the creative breakthroughs of 1965's Rubber Soul, which freed The Beatles from pop-band strictures and allowed John, Paul, George and Ringo to do pretty much whatever they could envision. And that would turn out to be a lot.
Abetted by their ever-resourceful producer, George Martin, the lads combined traditional song ideas and fearless sonic experimentation to create a bona fide masterpiece. As heard on the five-disc Special Edition (Super Deluxe), the groundbreaking Revolver retains the spirit of rock'n'roll while extending the quartet in once-unimaginable directions. Calling it "psychedelic" feels like a paltry description.
Contents of this dazzling package include: a 2022 stereo remix by producer Giles Martin and engineer Sam Okell, who also did the honors on previous Beatles projects; the mono version; two fascinating discs of session recordings; and an EP of new stereo remixes and the original mono mixes of the album-adjacent single "Paperback Writer" and "Rain." The box set also features a hundred-page book that offers extensive recording notes on each track, as well as insights into the origins of the songs, rare photos and lyric sheets, background on the cultural context of the era and an essay by the always-entertaining Questlove, presumably intended to make the Beatles more relevant to modern listeners.
Remixing a classic can be risky, but this new rendering deserves to be regarded as definitive. Martin and Okell have taken no great liberties – the music is simply clearer and more present. The effect is similar to that of seeing a great painting cleaned up or viewing a remastered vintage movie. This Revolver seems bigger and brighter than ever before. Comments in the book, however, make a case for the mono version as the truly essential one.
The discs of sessions, along with the accompanying notes, show how the songs came to be. Two versions of "Tomorrow Never Knows" underscore the importance of manipulating tape speeds, a device employed frequently on Revolver, and the text reveals the influence here of the Indian music championed elsewhere by George. A charming early take of "And Your Bird Can Sing" finds John and Paul cracking up as they attempt vocal overdubs. Remarks on "Here, There and Everywhere" reveal the influence of Marianne Faithfull and The Beach Boys' "God Only Knows." Songwriting work tapes of "Yellow Submarine" with vocals by John strike a more downbeat note than the finished product. A version of George's "Love You To" with prominent acoustic guitar suggests folk roots.
Where last year's reissue of Let It Be took pains to insist The Beatles were still a unified band, the new Revolver doesn't need to try. From "Taxman" and "Eleanor Rigby" to "And Your Bird Can Sing" and "Good Day Sunshine," their feverish collaborative creativity continues to amaze, more than a half-century later.