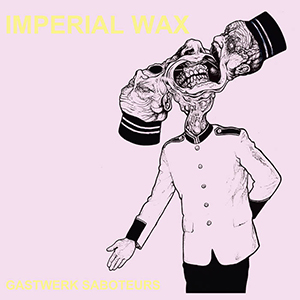 25 April 2019
It's the eternal question for veteran rock bands: what do you when your driving force leaves the band (and the world)? Do you carry on with a replacement, give it up or…what? In the case of Imperial Wax, there wasn't much choice. Guitarist Pete Greenway, bassist Dave Spurr and drummer Keiron Melling – AKA the longest-running version of The Fall – knew they couldn't just replace Mark E. Smith when he died last year. The Fall without Smith would be a parody of itself. At the same time, the trio had developed a chemistry and rapport that couldn't just be abandoned.
So they did the smart thing: added vocalist/guitarist Sam Curran, reconstituted as Imperial Wax (named after Imperial Wax Solvent, the first LP they recorded as members of the Fall) and didn't even try to sound like their old band. Make no mistake: Fall DNA is still present on Gastwerk Saboteurs, the band's debut album. The group's aggressive drive makes that clear. But Curran is a singer, not a ranter, with a more straightforward lyrical bent that avoids Smith's love of absurdist wordplay, and the musicians craft a more melodic postpunk that uses dynamics to more flexible effect than the parent group. While that may mean Wax sounds somewhat more conventional than the Fall (so would any band that didn't have a singular wackjob like Smith at the helm), it doesn't matter as long as the songs and performances hold up.
And they do. From the teethgnashing grunge of "Barely Getting By" to the clanging demi-pop of "Turncoat," the rambling garage rock of "No Man's Land" to the demented roots rock of "Plant the Seed," Imperial Wax demonstrates that it's got the goods. The band bristles with urgent rock energy applied to sturdy melodies, while Curran exudes a confident simmer, sounding as if he might explode any moment but refusing to do so. The band also indulges in a pair of epic, nine-minute tracks: "Rammy Taxi Illuminati" is the most Fall-like cut, blazing forward with almost motorik precision before dissolving into a puddle of psychedelia, while "Night of the Meek" eschews vocals for a grinding exploration of the acid-dipped side of postpunk.
To put it more plainly, the band succeeds at every approach it attempts. With a combination of solid musicianship, smart songwriting and sparkling interband chemistry, Imperial Wax easily makes the case for not only being a reasonable outgrowth of its much-beloved predecessor, but also as a great new band in its own right.
comments powered by