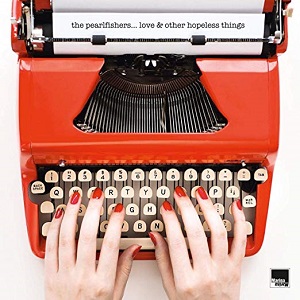 19 April 2019
So many great modern day pop songsters seem to be practicing in secret. Matthew Edwards, The Black Watch's John Andrew Frederick, Swan Dive's Bill DeMain, Prefab Sprout's Paddy McAloon – these are writers that have learned the lessons of the greats from the sixties, seventies and eighties (even the thirties and forties), digested them, and used that nutrition to create oeuvres that hold up right alongside their inspirations. Yet they lack the recognition (not to mention the top 40 hits, unless you count Sprout's U.K. chart entry for "The King of Rock 'n' Roll") that would put them in the rock encyclopedias alongside more famous authors who should be their peers – the victims of changing tastes and music industry indifference, one supposes.
Which is all a setup to say: add David Scott of Scotland's Pearlfishers to that list. On Love & Other Hopeless Things, the band's eighth album, Scott clearly draws inspiration from the Burt Bacharach/Zombies/Paul McCartney/Laura Nyro side of the pop world, but he doesn't sound like he's merely regurgitating bits of his favorite records. Like his fellow traveler Todd Fletcher (whose June & the Exit Wounds is probably the 'fishers' American analogue), Scott gives sparking piano-based melodies lush arrangements that rarely indulge in dissonance, yet never sound wimped out. The tunes may go down easy, but Scott's plainspoken delivery of his pensive lyrics keeps the tracks from being plush.
You may think you've heard these songs before, but it'll quickly become apparent that you're wrong. The lovely "A Walk Into the Blue Night," plaintive "You'll Miss Her When She's Gone," exotic (and wordless) "A Woman On the Verge of Becoming a Cyclist," folky "Once I Lived in London" (co-written by DeMain), bittersweet "Sometimes It Rains in Glasgow" (featuring vocalist Becci Wallace), the gloriously poppy title track – they all shine as original creations, beautifully wrought and fine as silk. Scott not only displays a fair degree of skill in his songwriting, but clear passion for his chosen milieu. Fans of such verdant tuneage and intricate but organic production will love it, and even those who prefer harsher sounds may well find Love & Other Hopeless Things difficult to resist.