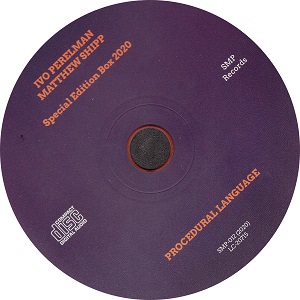 4 May 2021
Procedural Language, the latest collaboration from saxophonist Ivo Perelman and pianist Matthew Shipp, is more than just this duo's most recent work. Housed in a cardboard foldout with a book and a Blu-ray disk, it's the culmination of a partnership going back nearly a quarter of a century. Both NYC jazz staples in their own rights, the Brazilian horn player and Delaware keyboardist have long had a direct connection between their creative minds, allowing them to improvise music with an ease and comradery rare amongst musicians of any stylistic propensity.
Performing unaccompanied, Perelman and Shipp come up with a twelve-track suite that, despite being spontaneously composed, holds together like a classical symphony. Though well known for his dazzling runs and often aggressive attack, Shipp lays back here, providing dark, enigmatic chords and subtle comps in support of the saxist. Perelman pulls out every trick in his book – dissonant squalls, haunting moans, lush hums, swinging solos – in response to the framework his friend sets up for him, applying each technique in just the right spot. With each man reacting to the other's contributions, the result is a work of intriguing tangents with thematic consistency, as the players explore the limits of both their own and each other's talents to form music of exquisite sensitivity and surpassing beauty – a fitting tribute to twenty-plus years of friendship and art.
The Blu-ray contains a concert from 2019 in Sal Paulo, Brazil, performed on a sparsely lit stage in front of a background illuminated by abstract but enchanting splashes of paint that come and go – a graphic illustration of the two musicians' improvisatory dynamic. Written by Belgian jazz critic and singer Jean-Michel Van Schouwburg, the book – appropriately titled Embrace of the Souls – chronicles the history of the Perelman/Shipp partnership through its author's close relationship to it, giving it a personal, emotional angle that transcends mere hagiography. If this collection puts a signpost in front of a longstanding musical friendship, it's not one that says "stop," but an arrow that points the way to another twenty-five years of remarkable work to come.