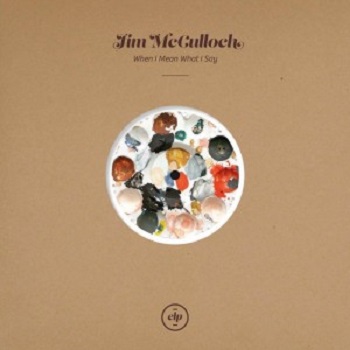 7 April 2021
Simply put, this is a cracking piece of work. Coming hot on the heels of last year's absorbing  The Making Of You by Snowgoose, the returning Jim McCulloch lets loose his debut solo work, and it is stunning. Due for release on May 21st, When I Mean What I Say is an album that is a long time coming, and it proves the integral talent the gentleman has for creating works of melodic adventure. Of course, throughout Jim's career he became an essential component to the sound of outfits such as BMX Bandits and The Soup Dragons, on When I Mean What I Say, audiences are given a more personal, and passionate message. 
Jim has recently stated – "I came to the realisation that to be an Artist is to be free". That statement is not fundamentally about the freedom from the constraints of a musical unit such as a band. It does, in my opinion, point to the freedom of expression to create music, and so executing a musical vision from start to finish. On When I Mean What I Say he has done that perfectly, and we are given an album set out in two cinematic chapters, 'Augmented' and 'Diminished'. That said, this is realism through art, it is an exceptional doorway-study into society, to go a step further, think of the expressionist works of Gustave Courbet or Jean-François Millet. 
The opening, and first chapter is heralded by "Blacksticks Boogie". A mesh of acoustics tumble, as an exploration begins, with soothing vocals, and a positive lyricism that are uplifting and direct as if the artist is speaking one-to-one with the listener. This engaging pattern continues with "Chorus Of Lists" which begins with a melodically sung overture that repeats itself throughout as the lyrics intertwine within a rush of music. As the title suggests it is a chorus of life objectives- "If I haven't got a smile, at least I can say I tried". It is a very relatable, and very personal statement, and the balancing act of the two is the genius on display. 
Continuing, "Augmented Yet Diminished" has a more playful sound which touches on the baroque with a hypnotic, singalong vibe. Whereas "Downbeat" is a beautiful tapestry of acoustic melody, which glides below the shining vocals of Jim. However, Jim stretches back to a nineties atmosphere with the foot-tapping  "Shining Bright". A highlight of the set which is simply inspired and the added charm of Rachel Jack adds to the sound. "Open And Shut" begins the second chapter and opens up the second half of When I Mean What I Say with an inspired gentleness. "Come Little Waves Of Light" again sails along a melodic sea of acoustic strings, tipping into full-on neu-folk heartfelt pleas. 
The dramatic strums that open "I Hope I Can Read The Forecast" finds Jim once again putting his views under the lens of his perception. With more of an unexpected air of hopefulness, which swells in the ever-emotional voice of the man. The closing title-track contains nuances of West Coast, California. It rolls subtly with a gentle, sublime texture, and with a series of mindful repeated messages to the artist himself, reminding himself of his/our own limits. Truly it is a message to everyone, a taking stock for individuals, and that is the overall message you get from this exceptional journey. All together this is a very important release, and a debut milestone. 

Tracklist:
Augmented :
1. Blacksticks Boogie
2. Chorus Of Lists
3. Augmented Yet Diminished
4. Downbeat
5. Shining Bright
Diminished:
1. Open & Shut
2. Come Little Waves Of Light
3. I Hope I Can Read The Forecast
4. When I Mean What I Say
To Order And For More Info:
Website
Facebook