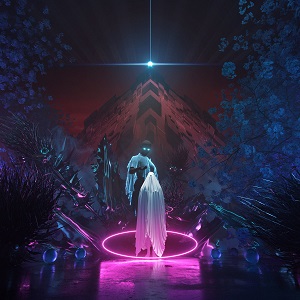 27 March 2020
Size is not everything. Unless you are the late porm star Johnny Holmes who made a career out of length. But, it is important when it comes to music. That immersive affect we need to fully engage ourselves in art is vital. Imagine it in terms of a movie. Watching an outing on the big screen that halts to black just as the audience is becoming gripped to the premise. That may seem off tangent to a review but it nails this latest release by Jonny Polonsky titled Kingdom Of Sleep. Also raising the monetary question for fans of music and those who purchase, as this mini album sits at $10 download, $15 physical. 
This release clocks in at a mild thirty-two minutes, just shy (by a track) of the Ep standard of twenty-five. Normally this would not be an issue, after all music is music regardless, but the experience of this depth driven album that Jonny is attempting here is simply too short. In the past the classics have always been over the forty-minute mark, some well over, for good reason. And it is the same reason that a movie usually runs from one-hour-thirty. Audiences need that time to engage, get into its stride and enjoy it. Take Pink Floyd's last monumental gasp The Wall. An album over eighty-minutes with a beginning, middle and an end. Granted Floyd knew how to cross cinematic art into audio art, that is what is missing here. Kingdom Of Sleep is not a conventional conceptual work, which is confusing. A soundtrack to a non-existent film with tracks that fit scenes and are not tied to a single narrative. 
Jonny is an old hand at making music. Working with legends since back in the day so really it is surprising that he left this in the present form. Kingdom Of Sleep suffers from being too compacted, like shoving elephants into a mini cooper. It is bursting at the seams with ideas, which, given Johnny's pedigree that is to be expected. A heavy sci-fi work that is not allowed the space to breathe, and properly connect to its audience. Just as you are getting into it, it finishes. Perhaps this is the first half of a larger work, and this is only part one? 
The tracks themselves are a mixture of futuristic installments that take a course moving forward from the computerised opener "Ghost Like Soul". A dramatic overture, that shifts quickly through a whispered monologue. Into "Sign In The Window", an upbeat song that works away from what surrounds it. With minimalistic beats it lays the way for the uplifting "The Weeping Souls". A counterpoint to the album, which is a highlight, if not suffering from a slight overproduction that knocks the wind out its sails at times. "Take Me Home" acts as a midpoint interlude, before the second half launches. 
The beautiful "You Turn Me On" opens with a ethereal piano before moving into a dreamy atmosphere. This atmosphere continues into the reflective "Aenerone". This partial instrumental is the separation filler between Ep and album, pointing to my original point. It doesn't add to the overall work, instead it has  twenty seconds of fade out. The closing "The Willing Eye" is a bit more like it, highlighting the talent Jonny possesses. A passionate piece of heartfelt music, with gothic nuances that holds more minimalistic fade towards the end. 
I know Jonny's work, and I also know what he is capable of but this is too muddled. Yes, he has ventured in this direction in the past with Interglatic Messenger Of Divine Love And Light (2012). But ultimately the moral of the story is committing to large scale projects requires going big or not at all, and sticking to standard rockin' tracks. 
Tracklist: 
1.Ghost Like Soul (feat. Cedric Bixler-Zavala) 
2.Sign In the Window   
3.The Weeping Souls    
4.No Tears    
5.Take Me Home 
6.You Turn Me On    
7.Aenerone    
8.A Willing Eye 
For More Info: 
Bandcamp
Facebook