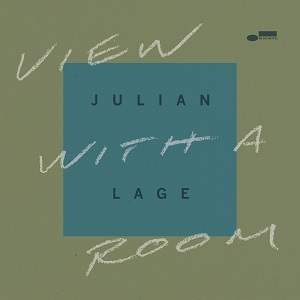 16 September 2022
After over a decade of being in the jazz guitar spotlight, Julian Lage achieved a major breakthrough with last year's Squint, an album that fulfilled all of his promise as a musician and composer. Almost devilshly good, Squint would be a difficult record for anyone to follow up, but Lage does it with style on View With a Room. Recruiting master guitarist and living legend Bill Frisell alongside his regular rhythm section of bassist Jorge Roeder and drummer Dave King, Lage expands his musical palette by emphasizing textures and arrangements over hot licks.
Take "Auditorium" for example. Lage steps forward with some beautifully realized melodics, occasionally letting his astonishing technique rear its head, but never to the point of distraction. Meanwhile Frisell uses his distinctive chord and note work to provide harmonic counterpoint, adding a tastefully lush feel like an adroitly deployed string quartet. The frisky "Chavez" races forward nearly at bullet train speed, but while Lage and Frisell indulge in some speed demon licks at times, they never burn out their amps, sticking to playfulness rather than intensity. Roeder takes the lead on the atmospheric ballad "Echo," as the guitarists paint impressionist splashes on either side of his undulating bass line. The whole band cuts loose on "Let Every Room Sing," exploring the free jazz of the Jimmy Giuffre and Paul Bley traditions.
Just to reiterate the strength of the writing, Lage takes the music back to the trio on three selections. Though your ears may deceive you into thinking otherwise, Frisell sits out "Heart is a Drum," letting Lage wrap his runs around himself like a spontaneously created tapestry, bolstered by King's crisp snare work. It's the same for the brisk "Word For Word," as Lage cheerfully twists his post bop melody with sudden bursts of tricky riffery, easing back into the melody before ever approaching wank speed. The threesome is at its most overtly jazzy on "Castle Park," on which Lage dances across King and Roeder's streamlined swing rhythm.
Superbly produced by Margaret Glaspy, View With a Room may not have the immediate impact of the brash Squint. But it carries the same levels of craft and heart, and reveals itself over multiple listens to be masterpiece #2 in Lage's ever-more impressive career.