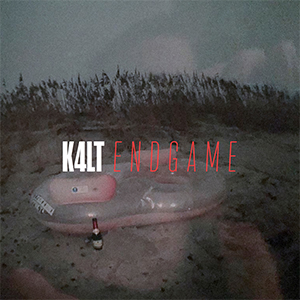 2 June 2021
K4LT or "Kalt," the German for "cold," is a post-punk or "Desktop Doom" solo project from Berlin. The artist refers to his debut EP Endgame as an "anti-debut album," and to take it one step further, it sounds as if he is deconstructing his own influences to the breaking point; taking apart the pieces of electronic and post-punk until they stretched to the limit while still just recognizable for their larger whole. Guitars and other traditional instruments serve anything but traditional purposes as they instead are implemented to the ghostly-like atmosphere K4LT conjures over hip hop beats.
There is a strange sensation with the vocals, because they are often buried in the mix and laden with reverb that like the Cocteau Twins they become so unintelligible as if to resemble known language while simultaneously sitting outside of it. This choice works to varying degrees—the falsetto is a little shaky on "Boarding Pass" but the vocals create a fantastic eerie, other-worldly effect on "Extinction Aphelion." The overwhelming attitude is one of despair, but like opening Pandora's box, there also exists a tiny bit of hope leftover and on a track like "Ahead // back" there is this forward momentum as if the artist is at least attempting to climb upward out of this pit.
Perched somewhere between dark pop and the avant- garde, Endgame is a tricky work of art to unravel, but there are plenty of rewards for those who try. One can only speculate that further releases from K4LT will help to unlock the mystery.