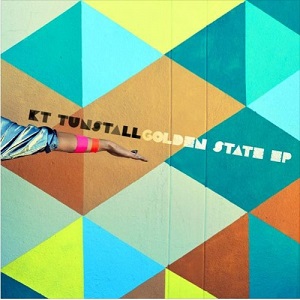 20 January 2020
Scottish born KT Tunstall is an electric current of creative energy for almost two-decades. Breaking onto the scene with the monumental Eye to the Telescope in late 2004. Her prowess as the 21st century singer-songwriter has seen a plethora of quality releases, none more so than 2016's Golden State Ep. 
Originally Golden State came to the world as a download and limited CD, kicking off this new decade, the eclectic release gets the vinyl treatment. Containing four tracks and one remix, Golden State is the sound of an artist constantly moving forward. Creating a soundscape of storytelling, influenced by a travelogue from snow bound isolation to crashing ocean waves. 
After upping sticks in 2014, and relocating to the States, Tunstall soaked in her new surroundings. Golden State is one such result of her new-found muse, though the cracking opener "Evil Eye" does resemble Tunstalls' earlier output. In truth, this is an honest dose of sparkling guitar-pop with intelligent lyrics. With the beat-addictive and soulful "All Or Nothing" flows with an effervescent urgency. 
The glam rock meets western Neil Young of "The Healer" is an exceptional listen. Also, the "Evil Eye" remix by British band Django Django. It certainly is not boring, and becomes more interesting upon further listens. However, the CD only track- "Bad Dream" is included here, ending the set nicely and making for one hell of a listen. Worth checking out as this may perhaps be something that passed you by. 
Tracklist:
SIDE A
  • Evil Eye
  • All Or Nothing
  • The Healer
SIDE B
  • Evil Eye (Django Django's Mad Drums Remix)
  • Bad Dream
To Order;
Website
Facebook