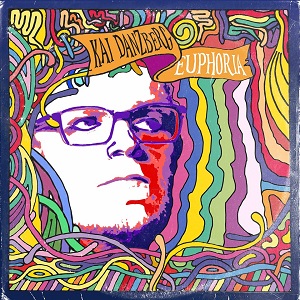 2 October 2019
The latest release from German-born Kai Danzberg teeters on the edge between full album and Ep. This seven track song-cycle titled Euphoria falls shy of thirty-minutes, but remains more engrossing than most full albums, and is a complete conception executed with conviction. This is a release which follows the artists previous outing from this year Not Only Sunshine, although with a harder edge to it. On Euphoria Kai manages to explore a singular theme that runs through the numbers similar to his previous work. It is interesting how much passion he instills within the core of the tracks, at the same time making the most of studio technology to fill the space on every song beautifully. 
Opening with the carnival playfulness of "Overture" before lifting into the Electric Light Orchestra styled "Welcome To Euphoria". In truth the quality and production of this release  is faultless, as it shifts through joyful styles. That positivity is both welcomed and refreshing, it is a creation in this time from another, and hinged in a more experimental time. As it moves into "Finally Free", with its narration and chorus against the crackle of a vinyl record points directly at this idea. "A Fool To Me" is definitely a prime example of those seventies sensibilities in the 21st century, stomping forward with an addictive foot-tapping movement. 
Whereas "Paralyzed" changes themes and sound, a more alternative rock sound drenched with technology. Heavily melodic, and thoroughly enjoyable, it transcends the usual release within its creators strive for perfection. "Over You" is a more urgent sound, dashed with acoustic and electric guitars which still brim with sweetness. Closing out with the piano driven "The Day", a showcase of the vocal acrobatics of Kai, with a lush section of harmonies and the blissful voice of Lisa Mychols. The dramatic sound is heartwarming, the talent of both singers compliment gracefully the release before it lifts into a stunning close with some classy guitar licks. 
In reality this is an infectious release, never falling too close to commercial sounding but remaining wholly unique. It pays homage to Kai Danzberg's influences as much as it pushes forward with his ideas and creativity. The ever-busy musician is currently working on his next album due in 2020, and Euphoria sets the scene perfectly for its arrival. 
Track List: 
1.Overture
2.Welcome To Euphoria 
3.Finally Free 
4.Fool To Me
5.Paralyzed 
6.Over You 
7.The Day (featuring Lisa Mychols)