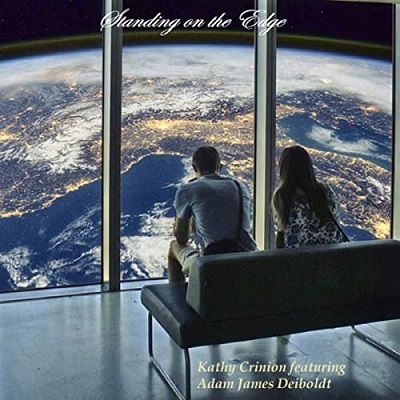 1 December 2020
In this new world of isolation, musicians have adapted, and overcome barriers with new ways of working. That is true for this artist, singer-songwriter Kathy Crinion. The Irish-based musician has up to this point released a steady stream of albums (Lovin' What I Do) , singles and collaborations, all with an authentic touch of Americana, shifting into the surroundings of soulful country. 
Following on from the release of "I Just Wanna To Be With You Tonight" from earlier this year, the lady returns with a new single. "Standing on the Edge" is indeed a duet with the Nashville based singer-songwriter and producer Adam James Deibold (The Miss America Ep). The track opens with melodic acoustic guitars, creating a haunting backdrop for Kathy's mournful vocals. With the introduction of Adam who brings an extra slice of heartbreak to proceedings, and the themes of loss skillfully soar through the chorus. There is an air of early-seventies folk nuances cutting through the sorrow. And hope arrives from that lifting middle eight. 
"Standing On The Edge" is written by Kathy, Adam and Kent Maxson, but there is a further act of ingenuity on display here. This track was recorded during lockdown, from both sides of the world -Adam in Nashville, Kathy in Ireland. The production then was handled in the United Kingdom by Pete Ware (Charlie Landsborough). This follows on from what I mentioned at the start, as the music industry financially struggles, artists are still making music and using technology more than before. For the minute however, "Standing On The Edge" sparkles with promise, and the bated breath starts here for a long-player down the line from the sublime Kathy. 

For More Info;
Website
Facebook
iTunes