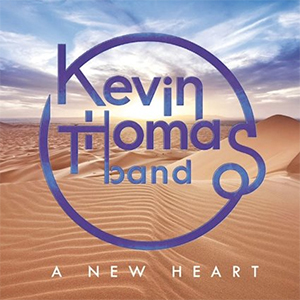 15 March 2019
The Kevin Thomas Band is the new project of Kevin Thomas, a singer-songwriter from San Diego with a long history in the industry, and this month he is set to release his debut solo album, A New Heart. The title is indicative of a fresh start for Thomas, as the songs here reject some of the angst driven lyricism of his past works and instead proudly carry the banner of tuneful optimism. The ten songs here are reminiscent of the Dave Matthews Band and Ben Harper, but there's a freshness here suggesting Thomas is updating their sounds for a more modern era.
On songs like "Reinvent Yourself," it's clear that Thomas is trying to send a message filled with positive vibes, but it's an optimism weathered slightly by years of experience steeped in reality. Instead, Thomas seems to be suggesting that although there has been a lot of negativity in the past, change and happiness is still attainable. It's also worth noting that a lot of the songs here are just about having a good time, including the silly, hallucinatory travelogue "High on Chocolate," which is about exactly what the title implies.
A New Heart doesn't quite live up to the work of Thomas' influences, but he certainly does a fantastic job following in their footsteps, creating a thoroughly enjoyable experience.