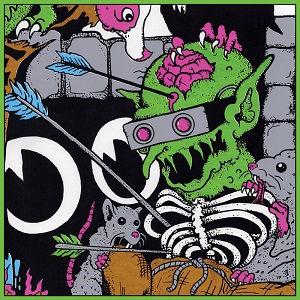 17 January 2020
The Australian seven-piece King Gizzard & the Lizard Wizard, are one of 'the' bands of the past decade. Releasing fifteen albums since 2012, the Gizzard have reinvented what it means to be a rock band in the 21st century. In 2017 alone they released five albums, one however Polygondwanaland, was uploaded to the internet under free licence. Through releasing the master tapes, and vinyl masters online for anyone to use for bootlegging. It is moves such as this that equate the importance of King Gizzard & the Lizard Wizard. 
While there catalogue is shy of live albums, January 10th last has seen the outfit rectify that in a very big way. Three live albums recorded in 2019 have landed on the bands Bandcamp site. Each recorded at a different venue including Paris, Brussels and Adelaide. What's more, this is not a straightforward album release, King Gizzard are donating 100% of profits to WIRES WILDLIFE RESCUE, WILDLIFE VICTORIA and Animals Australia. Three seperate charities to help with bushfire relief efforts. As their home of Australia is being ravaged, the guys have done something again which is above and beyond the normal expected in music nowadays. 
Each album, recorded on their Infest The Rats Nest tour includes songs from the hair metal masterpiece along with some psychedelic rock from their well known canon. A complete track listing is included below with a link to the Bandcamp site. I do recommend the Live In Adelaide set as the version of "Head On/Pill" is an outstanding showcase of colliding genres that rampage for almost thirty-minutes. In truth, the sound quality is excellent as expected, and the older tracks mesh nicely with the newer material. What ever way you look at it, it is a win-win situation for fans, thundering live music for a good cause. 
Full Tracklist & Bandcamp/Donate Links
Live in Brussels '19
1.Evil Star (live in Brussels '19)   
2.Venusian 2 (live in Brussels '19)    
3.Superbug (live in Brussels '19)    
4.The Lord Of Lightning (live in Brussels '19) 
5.Alter Me III (live in Brussels '19)    
6.Altered Beast IV (live in Brussels '19)
7.People-Vultures (live in Brussels '19)    
8.This Thing (live in Brussels '19)    
9.Sense (live in Brussels '19) 
10.The Wheel (live in Brussels '19) 
11.The Bird Song (live in Brussels '19)    
12.Down The Sink (live in Brussels '19)
13.Work This Time (live in Brussels '19)    
14.Robot Stop (live in Brussels '19)    
15.Big Fig Wasp (live in Brussels '19) 
16.Gamma Knife (live in Brussels '19)
17.Float Along – Fill Your Lungs (live in Brussels '19)
To Order/Donate 
Bandcamp
Live in Adelaide '19
1.Evil Star (live in Adelaide '19) 
2.Planet B (live in Adelaide '19)    
3.Mars For The Rich (live in Adelaide '19) 
4.Venusian 1 (live in Adelaide '19)    
5.Cyboogie (live in Adelaide '19)    
6.Real's Not Real (live in Adelaide '19) 
7.Hot Water (live in Adelaide '19)    
8.Open Water (live in Adelaide '19)    
9.Sleep Drifter (live in Adelaide '19) 
10.Billabong Valley (live in Adelaide '19)    
11.The Bird Song (live in Adelaide '19) 12.Inner Cell (live in Adelaide '19) 
13.Loyalty (live in Adelaide '19)    
14.Horology (live in Adelaide '19)    
15.Plastic Boogie (live in Adelaide '19)
16.Organ Farmer (live in Adelaide '19)
17.Self-Immolate (live in Adelaide '19)
18.Head On/Pill (live in Adelaide '19)
To Order/Donate 
Bandcamp
Live in Paris '19   
1.Evil Star (live in Paris '19) 
2.Venusian 2 (live in Paris '19)    
3.Perihelion (live in Paris '19) 
4.Crumbling Castle (live in Paris '19) 
5.The Fourth Colour (live in Paris '19) 6.Deserted Dunes Welcome Weary Feet (live in Paris '19) 
7.The Castle In The Air (live in Paris '19) 
8.Muddy Water (live in Paris '19)    
9.People-Vultures (live in Paris '19)    
10.Mr. Beat (live in Paris '19)    
11.Hot Water (live in Paris '19)    
12.This Thing (live in Paris '19)    
13.Billabong Valley (live in Paris '19)    
14.Nuclear Fusion (live in Paris '19)    
15.Anoxia (live in Paris '19)    
16.All Is Known (live in Paris '19)    
17.Boogieman Sam (live in Paris '19) 
18.Mars For The Rich (live in Paris '19) 
19.Am I In Heaven? (live in Paris '19) 
To Order/Donate 
Bandcamp