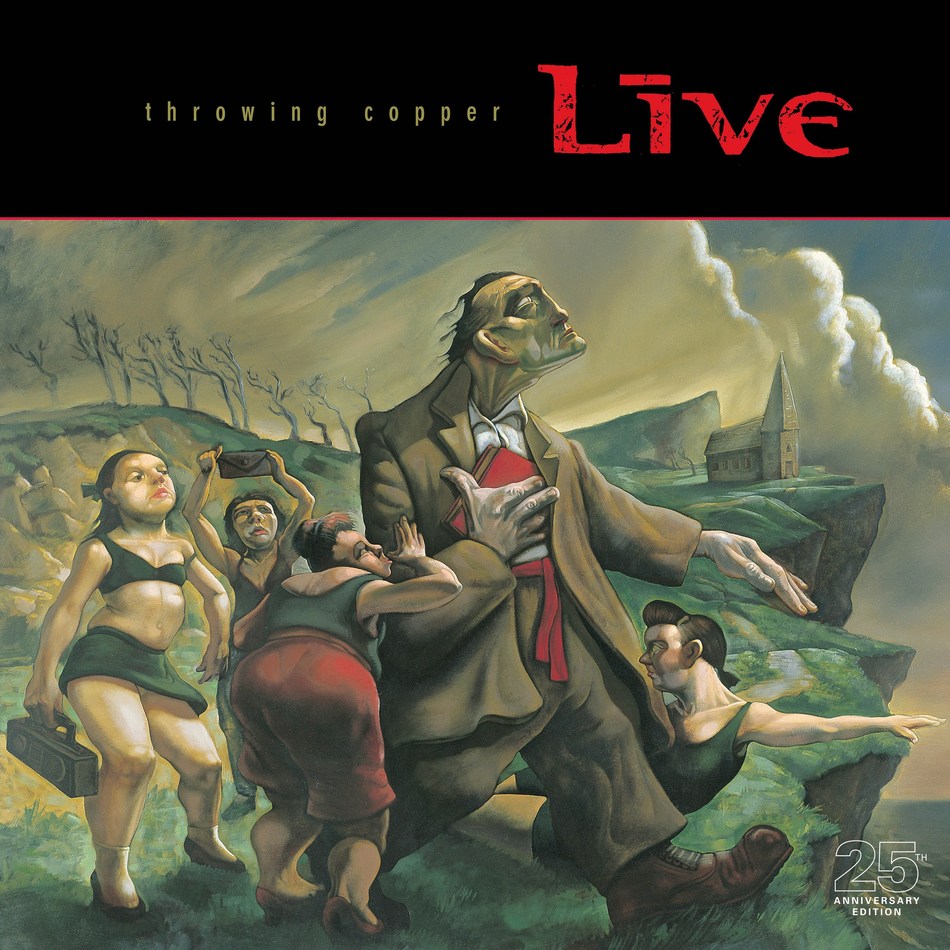 5 September 2019
Following the moderate success of major label debut Mental Jewelry and single "Operation Spirit (The Tyranny of Tradition)," Pennsylvania-based alt-rockers Live beat the sophomore slump silly with their landmark 1994 album Throwing Copper (in reality, it was the group's third full-length set, having recorded The Death of a Dictionary under a different name). With standouts including "Selling the Drama," "I Alone," and circle-of-life ode "Lightning Crashes" (charting at Billboard Hot 100 #12), Throwing Copper struck platinum in Live's self-generated space between alternative rock and grunge. The album reached the #1 position a year after its release, in the process of becoming one of the defining albums of the decade.
Singer Ed Kowalczyk's penchant for spiritual, philosophical, and metaphysical topics infused the album, enhancing the band's headphone-friendly sonics and strengthening fans' personal bonds to the material formed during solitude and contemplation. In a time when Blood Sugar Sex Magik and "Are You Gonna Go My Way?" were still getting ample play at parties, Throwing Copper was an openly earnest album to take to heart. According to Kowalczyk, "I Alone" was no romantic ode despite the passionately delivered lyric "I alone love you" during its bracing chorus. Rather, the song insists that deep truths must be studiously examined and not accepted from others at face value.
The jangle and twang of Chad Taylor's guitars and Chad Gracey's stadium-shaking drums during the riveting "Selling the Drama" shared enough sonic touchstones with "Losing My Religion" and "With or Without You" to gain Live favorable comparisons to early heroes R.E.M. and U2. In liner notes including a new interview with the full band, Taylor names the Pixies and Bob Mould as additional key influences on the development of Throwing Copper.
More sounds find their way into the mix. Patrick Dahlheimer's guttural bass rumbles through the stop-start urgency of "Iris," taking stormy cues from tumultuous hard rockers by Led Zeppelin. During the ferocious "Stage," the rhythm section rages like Soundgarden's "Kickstand." Taylor channels feral guitarist Kim Thayil while Kowalczyk sings about a rock and roll messiah. The band delivers a collective howl for unrequited love in rocker "All Over You."
Additions to the original running order include "Pillar of Davidson," a swinging, heavy waltz with kinship to R.E.M.'s mournful but defiant "Drive." Side four of the 2xLP set includes a clutch of B-sides. Dahlheimer's fretless bass creates a twisting and slippery foundation during country-fried bonus track "Horse," alongside weeping pedal steel. The questing "We Deal in Dreams" could have slotted nicely into the original running order.
The Super Deluxe 25th Anniversary Throwing Copper box set is housed in a squarebound, heavy cardstock cover that opens to reveal two heavyweight vinyl platters in the bookends with a page in between to holding two CDs. One disc contains the album and bonus tracks, while the second disc includes Live's landmark set from Woodstock '94. The performance was a major catalyst, placing the band in front of more than 200,000 people.