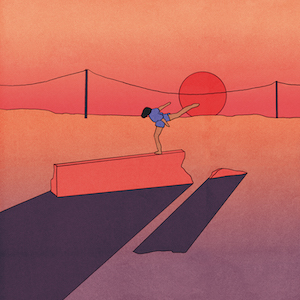 4 September 2019
On the first two Jay Som albums, Melina Duterte displayed a mastery of dreamy bedroom pop, producing, writing and providing all the sounds, save for a few backing voices. Now, on the wonderful Anak Ko ("my child" in the Philippine language Tagalog), she expands her range to make bigger, brighter music without losing the intimacy that made her previous efforts so affecting.
Despite the less-hazy textures of Anak Ko, Duterte remains a disarmingly soft-spoken singer with a knack for luscious melodies that might seem sentimental in more calculating hands. Joined by occasional supporting players for the first time, she addresses troubled friends and errant lovers with her usual eloquent directness, sighing, "I see you clearly/You dance around and fuck with us/A feigned intention/No one needs to see your light," on the toe-tapping "If You Want It." The breezy "Tenderness," which evokes glossy '70s pop, finds Duterte seeking real-life affection in a world of pretend, while the haunting "Nighttime Drive" contemplates escape, rolling like a warm, gentle breeze. Punctuated by weary steel guitar, the somber "Get Well" throws a lifeline to someone in distress as she gently asks, "How do you find peace/With a drink in your hand?," adding, "I will be your friend/Keep you safe instead."
Melina Duterte has created a compassionate, low-key masterpiece that offers sanctuary and tough love in difficult times.