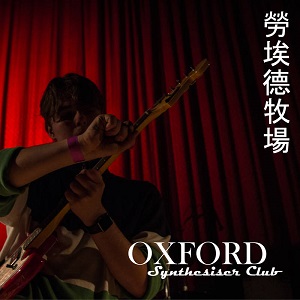 27 December 2019
Recently a young musician from Castlemaine, Australia by the name of Lloyd Meadows released a six-strong set under the title Oxford Synthesiser Club. Bordering on the fine line between Ep and mini-Album, Oxford Synthesiser Club begins with the minimalist but engaging "Lost & Lonely". Hard to pinpoint an influence, certainly not in recent years but the synthesizer moves along at a gentle pace. With a slick production that is highly listenable at the same time likeable. 
Following "Oxford Guitar Club" opens with the overpowering sweetness of a jangling guitar and that voice of Lloyd. Picking up tempo,  and giving depth to the sound. Taking the original mis-thought subtext of a collection hinged purely on keyboard notes. A more experimental, organ pronunciation comes in "73", owing a debt to Krautrock, with a twist of surrealistic views within a kaleidoscope of emotions. A standout of the set which deserves to be heard. An eighties slant arrives in the form of  "Preset 3 (Does It Cut It?), extending the gothic glaze of Gary Numan in some respects. 
Again the string riffs that open "False Senses" tumble eloquently before lifting to forge a wall of sound. Passionately fired electricity pulsing inside every inch of the track. Closing with the guitar and vocal of "A+mirror" before it transforms into a Brit-Pop statement, that has more nostalgia attached to it than most old-school attempts. In truth Oxford Synthesiserproud is a great outing with ideas galore and executed with a stylish confidence. Worth checking out and waiting to hear Llyod Meadows next electric adventure. 
Tracklist;
1) Lost & Lonely
2) Oxford Guitar Club
3) 73
4) Preset 3 (Does It Cut It?)
5) False Senses
6) A+mirror