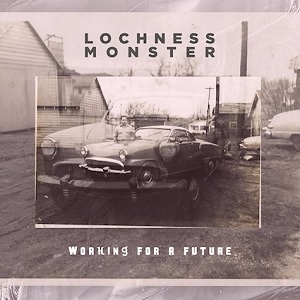 25 February 2022
Miami alt-rockers Lochness Monster are back with their second EP, Working for a Future, after a short gap between releases, and the band sounds like they have a newfound energy and purpose. Influenced by A Perfect Circle and Jimmy Eat World, the EP features three new songs as well as a new version of an older favorite, and the title is a fitting one, because more than anything else, the music here is a document of one band's resilience in the face of a global pandemic. The songs were recorded remotely, and they are the result of creative persistence in a time when everything seemed unsure.
The EP begins with the tempestuous and brooding "Glass Jar," a fascinating combination of alt rock instrumentals with dramatic 80s arena rock vocals. This melancholy feel continues with the emotional ballad "Running Away" and even when things pick up with the bouncy and highly danceable "Atlas," there is always a lingering sense of tension from something darker lurking just beneath the surface. This sensation fully rears its head with the closer "Pendulum," which leaves the questions the band asks unanswered, ending on a note of uncertainty.
Working for a Future is brave and daring in this musical uncertainty, as if the band themselves are unsure of what that future mentioned in the title exactly looks like. It's a fantastic document of a band captured in what is seemingly a transitional period, and leaves the door wide open for more great music on the horizon.