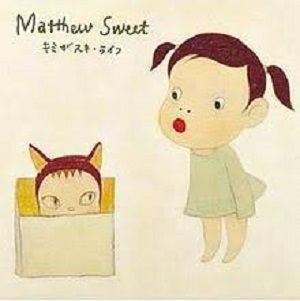 15 July 2019
Finally, one of Matthew Sweet's most acclaimed piece of work gets a release proper. Kimi Ga Suki * Raifu, Sweet's personal love letter to his Japanese fans from 2003, finally becomes available on vinyl and compact disc outside of Japan via Glass Modern. It is a fresh work of effervescent-pop beauty which glows with a feel-good intensity.
Opening with the rich urgency of "Dead Smile", the marker of quality is set early on, as Sweet is in fine voice as the song shifts themes and tempos surprisingly well. "Morning Sun" is an anthemic summer classic, balancing between folk, and an alternative assault, with a foot firmly anchored in Big Star territory. Though the loose nature and guitar crank of "I Love You" is a highlight, uplifting and transcendent as it glides along to a wall of controlled fuzz.
Mid-point through this collection and the outstanding breath of the album really takes shape. "Warning" is an atmospheric slice of California-glowing splendor, the guitar lines weave in and out of the acoustic wall. "Spiral" has the feel of old-school Steve Miller, galvanized by a playful electric sitar and pumping bass. Unfortunately short, clocking in under two-minutes, perhaps the only downside to the album. "Love Is Gone" is a romantic, nursery rhyme floating against the sweetest of acoustic guitars. Pulled straight back into explosive ground with "Hear This", punchy guitar work, magnificent harmonies and catchy hooks, all present throughout.
The factors of feel good elements continue into the kaleidoscope of drama that exists in "Wait", continuing into "Tonight We Ride". Closing out with the longest song of the set by far, "Through Your Eyes", a track twisting through seven minutes of reactive noise, culminating in a perfect finale. Understanding that this is a home recording, mixing and engineering done by Sweet is a staggering fact. Even with that classic lineup from the Girlfriend album (1991). Featuring Ric Menck, Greg Leisz and the sublime Richard Lloyd of Television, the sound is unrelenting and emotionally injected.
The fact this is only released outside of Japan in a physical format, 16-years after its original incarnation is slightly shameful, as it is a work of sheer brilliance. Nevertheless, it is upon us now to enjoy in full, and music this good is always worth waiting for.
TRACKLIST
1. Dead Smile (5:01)
2. Morning Song (4:15)
3. The Ocean In-Between (2:51)
4. I Love You (1:41)
5. I Don't Want To Know (3:46)
6. Warning (4:04)
7. Spiral (1:50)
8. Love Is Gone (3:27)
9. Hear This (3:22)
10. Wait (2:38)
11. Tonight We Ride (2:44) 12. Through Your Eyes (7:13)