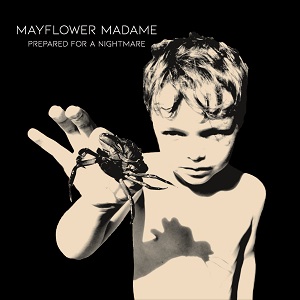 14 March 2020
Following on from 2018's Premontion Ep, the Scandinavian outfit Mayflower Madame are set to release their sophomore long-player. On March 27th, comes Prepared For A Nightmare, a ten track album which hinges on nostalgia. Not their nostalgia of course, but that taken from the advances and sounds created in the late seventies and early eighties. At times it is corralled as post-punk, a word used to describe the music that sprung up from the remnants of punk, obviously. But that was forty-three years ago, and now bands need to inject their own sense of style or else they are just replicating all that went before, and that is what is happening here unfortunately. 
That is not to say Mayflower Madame have put together a bad album, it's not, however it simply doesn't present anything new for audiences. It is safe, and anchored in an age far removed from now. Take for example the Pet Shop Boys, an outfit who this year released their latest work Hotshot. This band have threaded the boards since those new wave days of the early eighties, when the members of Mayflower Madame were perhaps infants. Instead of sticking to the formula that worked back then, they have become more adventurous and are trying new things, sometimes they work, sometimes they don't but they try. Ultimately, if audiences want to listen to the sound of Cabaret Voltaire, Killing Joke, New Order, Jesus And Mary Chain, they can simply listen to those artists, after all they did it first, and best. Too many new bands consider sticking within a safe parameter, and are not taking the chances that those aforementioned bands took with songwriting and sound. Whereas influence is one thing, as all music is influenced by something, some take it to the ends of complete repetition, and that is where Prepared For A Nightmare exists.
The singles released are what you would expect given my previous statement. "Vultures" sounds like the Sisters Of Mercy covering a Jesus And Mary Chain song, whereas the more recent "Swallow" is Movement era New Order to a 'T'. The rest of the album is in a similar vein. The opening title track is a slow screech of ambience that becomes more gothic as it shifts through the long intro section. With a hint of Joy Division running through Prepared For A Nightmare, "Ludwig Meidner" sounds very close to "Atmosphere" if not slightly updated. "Sacred Core" offers up much of the same which makes the album a  tougher listen, a harder journey for it's audience. 
Though other influences come to the fore such as "The Night Before" with its opening guitar pattern that is not far away from Nirvana's "Heart Shaped Box". Though the moments of sparse originality come in the form of "Goldmine". A playful number that perhaps holds more of the band's identity than what came before. After that we come back into the all too familiar territory with "A Future Promise" and the closer "Endless Summer". Gloomy, gothic sounds with the heavy crack of drums against a tumbling bass, hanging on the depth of the past. Originality is not the be-all of everything, and audiences may have a feeling of wanting more from the Mayflower Madame. But they are a band only into their second album, and a maturity is evident. Hopefully they can clinch more of their style and not just their influences in the future. 
Tracklist; 
1.Prepared for a Nightmare
2.Vultures 
3.Swallow 
4.Ludwig Meidner
5.Never Turning (In Time)
6.Sacred Core
7.The Night Before
8.Goldmine
9.A Future Promise
10.Endless Shimmer