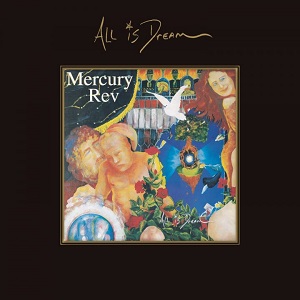 25 September 2019
It does not seem like thirty-years since Mercury Rev exploded onto the scene, but the passing of time has only improved their sound. Hailing from Buffalo, New York, the band's music shifted direction within their first decade, from neo-psychedelic indie rock to a more melodic, Americana style. Maturing and growing as their audience did, hitting commercial highs with 1998's Deserter's Songs. The follow-up to that critical and commercial success, the 2001 epic All Is Dream is actually the focus here. Although not as successful as Deserter's Songs, there is a certain charm to the album, and perhaps a reinvention such as this is exactly what it needs. 
By all means this is a heads up to fans which is duly warranted, as there is something special in a limited (mouthwatering), bespoke release of this modern classic restricted to 500 units. The All Is Dream cinematic album has received this deluxe treatment via Cherry Red Records, and now stands at a hefty fifty-three tracks. Due for release on December 6, this expanded set features the original ten-track album plus a  disc of B-sides, outtakes and demos. Followed by a whole disc of unheard in-concert recordings from the accompanying tour and a French radio session along with the legendary John Peel sessions. Along with the Rev numbers are interpretations of "Streets Of Laredo" (Marty Robbins), "Lucy In The Sky With Diamonds" (The Beatles) and "I Keep A Close Watch" (John Cale) as well as newly heard compositions such as "Mascara Tears" and "Silver And Gold". 
The bespoke edition features the above plus an exclusive 7" featuring the previously unissued tracks "The Brook Room" and "Back Into The Sun (You're The One)", along with a hand-signed lyric sheet for "The Dark Is Rising", three exclusive button badges, a 14" x 14" poster of the original album cover. And finally three 7" prints of the artwork from the three original singles "Nite And Fog", the classic opening track "The Dark Is Rising" and "Little Rhymes". Certainly something of value to hardcore fans of the outfit, however, the standard set holds the musical jewels, and the memorabilia is simply gravy. 
DISC 1: THE ALBUM
1. THE DARK IS RISING
2. TIDES OF THE MOON
3. CHAINS
4. LINCOLN'S EYES
5. NITE AND FOG
6. LITTLE RHYMES
7. A DROP IN TIME
8. YOU'RE MY QUEEN
9. SPIDERS AND FLIES
10. HERCULES
DISC 2: B-SIDES, DEMOS & OUTTAKES
1. PLANET CARAVAN (B-side)
2. STREETS OF LAREDO (B-side)
3. I KEEP A CLOSE WATCH (B-side)
4. NOCTURNE IN C# MINOR, OPUS 27, NO.1 (B-side)
5. BLUE SKIES
6. LUCY IN THE SKY WITH DIAMONDS (Outtake)
7. SPIDERS AND FLIES (John Peel Session)
8. GYMNOPEDIES #3 (John Peel Session)
9. MASCARA TEARS (Outtake) *
10. THE BROOK ROOM (Outtake) *
11. SILVER AND GOLD (Outtake) *
12. A DROP IN TIME (Demo)
13. WHERE THE MOUNTAINS START TO RISE (Demo) *
14. NITE AND FOG (Earliest Demo) *
15. BACK INTO THE SUN (YOU'RE THE ONE) (Outtake) *
16. A QUICK ONE AT ARTIE'S 44 (Demo) *
17. MR. MOONLIGHT WILL COME (Outtake) *
18. BOYS CHOIR (Outtake) *
19. COOL WAVES (Outtake)
20. HERCULES (Demo) *
DISC 3: IN CONCERT
1. THE DARK IS RISING (Dublin 10/03/01)
2. TIDES OF THE MOON (Copenhagen 08/27/02)
3. CHAINS (Dallas 12/07/01)
4. NITE AND FOG (Ghent 11/07/01)
5. LINCOLN'S EYES (Lille 11/09/01)
6. THE SAW SONG (Detroit 11/23/01)
7. PLANET CARAVAN (Munch 10/23/01)
8. LITTLE RHYMES (Los Angeles 12/03/01)
9. YOU'RE MY QUEEN (Milano 04/13/02)
10. SPIDERS AND FLIES (Oslo 8/30/02)
11. HERCULES (Clermont-Ferrand 4/18/02)
12. THE JEAN GENIE (Copenhagen 08/27/02)
All tracks previously unissued
DISC 4: THE BLACK SESSIONS
1. THE FUNNY BIRD
2. TIDES OF THE MOON
3. TONITE IT SHOWS
4. LINCOLN'S EYES
5. THE SAW SONG
6. YOU'RE MY QUEEN
7. GODDESS ON A HIWAY
8. HOLES
9. OPUS 40
10. SPIDERS AND FLIES
11. THE DARK IS RISING
To Pre-Order;
Website
For More On Mercury Rev;
Facebook
Website