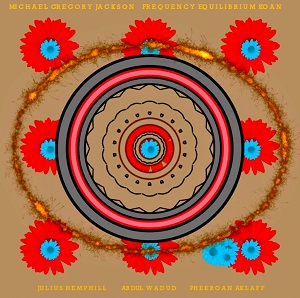 5 February 2021
Guitarist Michael Gregory Jackson is a maverick who's not as well known as he should be. Part of the New York scene starting in the seventies and into the eighties, the axeman vacillated between mainstream soul/pop (including LPs for Island and RCA/Novus, the former produced by Nile Rodgers) and avant-garde jazz (work with Oliver Lake and Wadada Leo Smith, recording the landmark Clarity LP in 1977). That split personality may have sidelined him in the fame game, but it didn't stop him from earning a place beside James Blood Ulmer and Sonny Sharrock as an innovator, and influencing future envelope pushers like Bill Frisell, Brandon Ross and Vernon Reid.
After years in the wilderness, Jackson picked up his recording schedule in the 'aughties, though this album is a bit of an outlier. Recorded live in 1977, Frequency Equilibrium Koan features Jackson throwing down with a free jazz dream team: saxophone legend Julius Hemphill, drummer Pheeroan akLaff and radical cellist Abdul Wadud, late of the unfairly obscure Black Unity Trio. "Clarity" and the title track don't mess around, as the quartet improvises collectively around the barest of musical themes, with cadences ranging from playful to forbidding. Not for the faint of heart (especially the massive "Clarity"), but mother's milk to fans of uncaged spontaneous composition. "Clarity" is smartly followed by "A Meditation," an exercise in improvisational ambience that finds Jackson switching out his guitar for a bamboo flute, sending us (almost) gently into that good night.
Perhaps the easiest entry is the Ulmer-like "Heart & Center," a rangy slice of free funk structured around Jackson's scale-traversing guitar lattice and Wadud's pizzicato plucking, which serve as foundation for akLaff's free-range kit work and Hemphill's soulful flights of fancy. As rocking as it is dazzling, "Heart & Center" acts as a gateway to Jackson's viewpoint, prepping the unsure for the more demanding delights within.