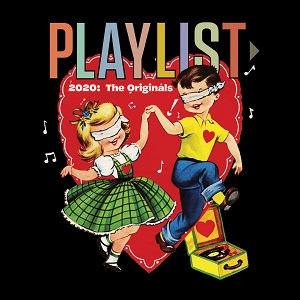 29 January 2020
The nurturing of our youth culture is the most important aspect when considering the future. As the baton is passed and new artists emerge on the musical landscape, there is nothing more rewarding than giving that new generation of talent a spotlight with which to showcase their strength, and indeed their capabilities as songwriters to write captivating music. With all that in mind, vocalist and guitarist Michael Simmons of the legendary power pop zeitgeist sparkle jets UK is encouraging that grass roots movement. With this, an unselfish act to highlight the brilliance of what is emerging on the horizon.
Michael, who sidelines as a teacher at the Academy Of Performing Arts in Huntington Beach High School, presents the sixth volume of his Playlist series, respectively called Playlist 2020: The Originals. Presenting twenty-one tracks, written and performed by students, the majority of whom have already attracted major label attention. As Michael himself states, and rightly so "All the songs we continually worship were mostly written by kids if you think about it". There is not a concert we go to when we hope bands play music from the start of their career. 
After all, the phrase – there is no 'great' music, or artists anymore! Has become a statement of laziness, it is harder nowadays than it ever was, not only to earn a living, but to be discovered in the industry. There is a plethora of great music being made, and new talent oozes from every corner of the world… you just have to go looking for it. So, here are acts which hold the keys to the future, and thankfully they blister with the best of them. 
The standout factor of Playlist 2020: The Originals is not purely the sound, it is the high standard of songwriting. The set kicks with the piano and guitar of Taylor Cox with "Love Is Home". It is here the foot tapping commences and continues. Madeline Bryant with "And No One Else" presents a more indie sound. Whereas Olivia Ooms goes epic Americana with "California Country", a youthful Gillian Welch. The variety of moods and themes such as Tracey Le and Haley Harmicar bring a sense of dramatic loss to "Underdog". There is an explosion of ideas throughout, for example Lükka on "One Final Day" gives an extra bit of intensity, and Creative Differences "Redlight" is a bass-driven playground. Ariela Wiles presents a blissful ballad in "Helen", and the guitar cranks of Noah Perkins on "Ruin the Fun" shines. 
Surprises abound with the guitar minimalist of "We All Fall" by Michael Jarrah. And the songwriting prowess of The Bierman Bros. and their original "Love My Baby Like I Love My Shoes" is a rockabilly, tongue-in-cheek piece of art. Rachel Davies uplifts every inch of "Honeysuckle". A blast of early Santana meets indie sways from Miles Maricich on the wholesome "Rest". Brian Casey revisits the eighties, thankfully (I miss the 80s) with the synthesizer eruption of "Enough". At this point, one thing is prevalent, and that is the variety of styles on offer. Whitney Slome identities her emotions perfectly on "World on Fire", Mystery shoegaze the hell out of the rollicking alt. of  "Control Me" , as the B52s meet My Bloody Valentine. With a melodic detonation Beckam present "Like Before", a nod to the old-school nineties rock. Things turn back to acoustic songstress territory with the beautiful "All I See Is You" by Alexis Pitt. 
Lush movements begin "Hiding Within" by Aimee Paulson, a drama drenched telling. Whereas DIV!SION begin their tour-de-force "Dysfunctional" with a sample, before an angelic voice soars. The set closes as classy at it started with the Spanish-styled musings of "Captain Midnight" by Bettino. This is a huge landscape of talent, genres, styles and great music. Available via Bandcamp (link below),  I definitely recommend delving into this. The future is no longer unwritten, it breathes in every riff and melody here.
Tracklist:
1.Taylor Cox – Love is Home    
2.Madeline Bryant – And No One Else    
3.Olivia Ooms – California Country    
4.Tracey Le feat. Haley Harmicar – Underdog 
5.Lükka – One Final Day 
6.Creative Differences – Redlight    
7.Ariela Wiles – Helen    
8.Noah Perkins – Ruin the Fun    
9.Michael Jarrah – We All Fall    
10.The Bierman Bros. – Love My Baby Like I Love My Shoes    
11.Rachel Davies – Honeysuckle    
12.Miles Maricich – Rest 
13.Brian Casey – Enough 
14.Whitney Slome – World on Fire    
15.Mystery – Control Me    
16.The Beirman Bros. – Don't Want to Give Up 
17.Beckam – Like Before    
18.Alexis Pitt – All I See Is You 
19.Aimee Paulson – Hiding Within 
20.DIV!SION – Dysfunctional    
21.Bettino – Captain Midnight 
To download; 
Bandcamp