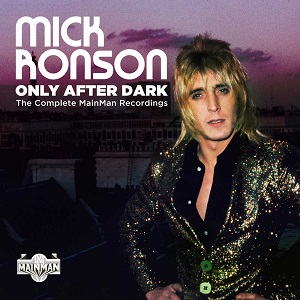 12 October 2019
This is essential entertainment for fans of seventies rock, David Bowie and screaming guitars. The late Mick Ronson, the man who helped the aforementioned Bowie carve his early career. On the Man Who Sold The World (1970) album, Ronson screamed his way into the seventies with a relentless and inventive style. The album, a David Bowie release could very well have been a Mick Ronson album, or at the very a collaborative effort. He is all over it, outweighing the rock greats of the day such as Led Zeppelin, Ronson pulled riffs out of nowhere and conjured feedback effortlessly. With the albums that followed, Hunky Dory, Aladdin Sane, Pin Ups and the classic Ziggy Stardust Mick provided the foil for Bowies creativity, but as he moved towards his next creation with Diamond Dogs and eventual 'plastic soul's era, Ronson made the break amicably. 

After Bowie announced at the Hammersmith Odeon on 3rd July 1973 that he was breaking up the band,
Mainman
manager
Tony Defries
knew there was an opportunity in Mick Ronson to create a star, if not a reluctant one. Mick was given three-weeks to write and record his debut solo album that would become
Slaughter On 10th Avenue
. With David Bowie lending credence and creativity to the project, the album was well-received and broke the UK top-ten. Quickly followed by the follow-up
Play Don't Worry
, a jewel of seventies rock, suffering from a lack of promotion due to Mick joining
Mott The Hoople
. But the album contains some of his most ferocious work including a cover of
The Velvet Underground's
"White Light/White Heat".
Unfortunately however, these two albums were the only solo albums released in the guitarists lifetime who succumbed to cancer in April 1993. This is a fitting tribute to an indisputable talent,
Only After Dark
is the most comprehensive collection of Ronson's post-Bowie work, but with an even deeper dive into the busy guitarists solo work with the welcome inclusion of live tracks, demos, outtakes and both albums in their entirety over the four discs. But, the real icing on the cake on my opinion is disc three and four. Some of these tracks have seen daylight on the posthumous
Just Like This
album in 1999. What was supposed to form the third solo release by Ronson, and recorded in Bearsville Studios, in Woodstock. Having everything in one place makes this a spectacular release.
Track List:
DISC ONE;
SLAUGHTER ON 10TH AVENUE
1. LOVE ME TENDER
2. GROWING UP AND I'M FINE
3. ONLY AFTER DARK
4. MUSIC IS LETHAL
5. I'M THE ONE
6. PLEASURE MAN/HEY MA GET PAPA
7. SLAUGHTER ON 10TH AVENUE
BONUS TRACKS
8. LEAVE MY HEART ALONE
9. SLAUGHTER ON 10TH AVENUE – SOLO GUITAR SECTIONS
10. LOVE ME TENDER (Live)
11. SLAUGHTER ON 10TH AVENUE (Live)
12. 'TEEN MAGAZINE' INTERVIEW (Spoken Word)
13. SLAUGHTER ON 10TH AVENUE
14. ANGEL NO. 9
15. F.B.I. (Live)
1-7 The album Slaughter On 10th Avenue, RCA
Victor APL1-0353, released March 1974
8 Single, RCA Victor LPBO 5022, released
April 1974
9 Unreleased at the time
10-11 Live at The Rainbow, London, February
1974
12 Flexidisc, April 1974
13 Live In Hamburg
14 Live at the Ford Auditorium 28.4.79
15 Live In New York 12.6.79
DISC TWO: 
PLAY DON'T WORRY
1. BILLY PORTER
2. ANGEL NO. 9
3. THIS IS FOR YOU
4. WHITE LIGHT/WHITE HEAT
5. PLAY DON'T WORRY
6. HAZY DAYS
7. GIRL CAN'T HELP IT
8. EMPTY BED (IO ME NE ANDREI)
9. WOMAN
BONUS TRACKS
10. SEVEN DAYS
11. 28 DAYS JAM (Out-Take)
12. STONE LOVE (SOUL LOVE) (Out-Take)
13. I'D RATHER BE ME (Out-Take)
14. LIFE ON MARS (Demo)
15. PAIN IN THE CITY (Demo)
16. DOGS (FRENCH GIRL) (Demo)
17. WOMAN (Demo – Alternative Version)
18. SEVEN DAYS (Demo – Alternative Version)
1-9 The album Play Don't Worry, RCA Victor
APL1 0681, released February 1975
10 B-side of single, RCA Victor RCA 2482,
released October 1974
11-13 Album outtakes
14-18 Demos, recorded December 1975
DISC THREE:
1976 SESSIONS
1. ALL NIGHT LONG
2. I'D GIVE ANYTHING TO SEE YOU
3. TAKIN' A TRAIN
4. HARD LIFE
5. (I'M JUST A) JUNKIE FOR YOUR LOVE
6. CRAZY LOVE
7. HEY GRANDMA
8. IS THAT ANY WAY
9. I'VE GOT NO SECRETS
10. HARD HEADED WOMAN
11. ROLL LIKE THE RIVER
12. ANGEL NO. 9
BONUS TRACKS
13. JUNKIE (Demo)
14. ALL NIGHT LONG (Demo)
15. RONNO'S BAR & GRILL (Studio Outtake)
DISC FOUR: CD
RARITIES
1. HEY GRANDMA (Demo)
2. CRAZY LOVE (Demo)
3. HARD LIFE (Demo – Ballad Version)
4. I'D GIVE ANYTHING TO SEE YOU (Demo)
5. TAKIN' THE NEXT TRAIN (Demo)
6. CRAZY LOVE (Live)
7. HEY GRANDMA (Live)
8. (TAKIN' A) TRAIN (Live)
9. JUNKIE (Live)
10. I'D GIVE ANYTHING (TO SEE YOU) (Live)
11. HARD LIFE (Live)
12. ALL NIGHT LONG (Live)
1-5 1976 Demos
6-12 Live In Buffalo Century Theatre 1976
To Pre-Order; 
Website