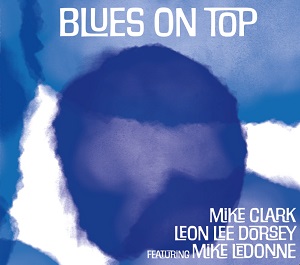 11 August 2022
Star rhythm section Mike Clark (Headhunters, Jack Walrath) and Leon Lee Dorsey (Lionel Hampton, Oliver Lake) hit on a smart thing four albums ago: recruit a different guest melodist for each project, showcasing different kinds of chemistry between the pair's timekeeping mastery and other players. For Blues On Top, the duo adds pianist Mike LeDonne who's served under Benny Golson and Tad Shull, as well as maintaining a prolific career as a leader. Presented with a set of hard and bebop-oriented tunes, the ivory tickler locks in with the co-leaders as if he's been playing with them for decades.
Of course, that may partly be down to the program – standards the likes of "Angel Eyes," "Willow Weep For Me" and "C Jam Blues" should be in the back pocket of every working jazz musician, and adding a Beatles tune to the repertoire (in this case a finger-popping "Can't Buy Me Love") is so common at this point it's hardly a novelty. But the thrill of playing together for the first time gives their runs through these beloved warhorses a fresh sparkle, and the addition of deep cuts from the catalogs of Cedar Walton ("Jacob's Ladder") and the great, oft-overlooked Oliver Nelson ("Stolen Moments," from the essential The Blues and the Abstract Truth) injects an eyebrow-raising cool factor. LeDonne also brings a pair of his own tunes to the party, including the funky "Lock It in the Pocket" and the title track's swinging blues.
Ultimately what this session comes down to is pure fun – these guys clearly enjoy their musical interaction, playing everything with a relaxed intensity. That makes the joyful noise of Blues On Top difficult to resist, but then, why would you want to?