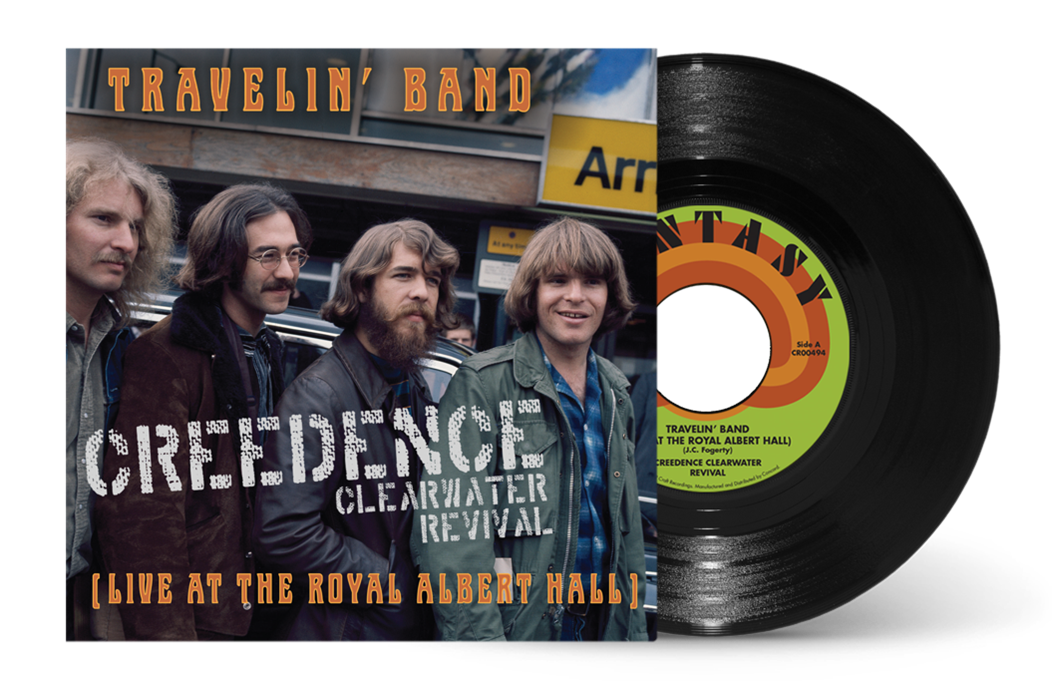 10 August 2022
Released for Record Store Day in June 2022, this 7" vinyl disc features a hot CCR performance drawn from the upcoming Creedence Clearwater Revival at the Royal Albert Hall live album and documentary concert film. The song and ensuing full show were recorded in London on April 14, 1970, and are previously unreleased. The band are on fire and in their heyday while playing "Travelin' Band" for the enthusiastic English audience. The road-warrior anthem is a two-minute blast of adrenalin. The song is stripped to its raw essence without the familiar saxophone heard on the studio version, but the crowd would have been unaware of the omission since Cosmo's Factory wouldn't arrive until mid-July. John Fogerty cuts loose with a feral rock and roll howl, and the rhythm section of bassist Stu Cook and drummer Doug Clifford are a finely-tuned engine room to power Tom Fogerty's rhythm guitar and John Fogerty's stinging lead.
The B-side is the folk-rock favorite "Who'll Stop the Rain," another Creedence classic recorded for Cosmo's Factory. John Fogerty's musing Vietnam-era protest lyric also reflects upon the Woodstock generation with fresh eyes. The song was captured at the Oakland Coliseum on January 31, 1970, and is drawn from live album The Concert.
As fun as these time-traveling performances are, the 7" vinyl single is hampered by quality control issues. The A-side performance of "Travelin' Band" becomes distorted as the needle approaches the inner groove. The B-side recording of "Who'll Stop the Rain" drags and warbles, seeming to run a bit slower than real-time. If you're a Creedence collector, you'll want this as a keepsake nonetheless. If you want the best pressings of the songs, it will be better to seek the full albums including superior mastering.