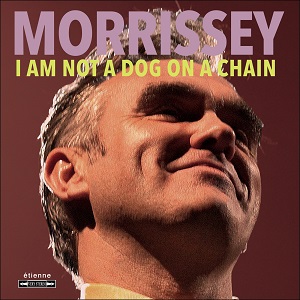 24 March 2020
Well this is certainly a turn up for the books. Following last years abysmal mis-step Californian Son, Morrissey returns less than a year later with a work of excellence. Granted, fans, audiences (including myself), may have thought this would not happen so quickly, if at all. Our Moz has that talent of pulling back from the edge of the abyss with a celebrated work. And that is what I Am Not A Dog On A Chain is. 
After last year's episodes which included a 'For Britain' badge worn on Jimmy Fallon's The Tonight Show. Or the overpriced Patti Smith and Bowie records signed by Moz himself, things looked uncertain. But Morrissey's gift for keeping the spotlight on himself either for better or worse is truly remarkable. It is in some respects political marketing, reminding us of the quote by Morrissey's hero Oscar Wilde – "There is only one thing in life worse than being talked about, and that is not being talked about". 
But I Am Not A Dog On A Chain is an adventurous outing. While he is definitely trying new things, he is remaining within the aura of his own creativity. In truth Morrissey is in a league of his own as a songwriter. From the beginning, the electronic, mid-nineties explorations return with the upbeat "Jim Jim Falls". A reminder of the adventurous _Your Arsenal__, that continues onwards into "Love Is on Its Way Out". The first slice of this Moz pie came in the effervescent, and eclectic "Bobby, Don't You Think They Know?". This features a stunning duet with Grammy-winning, soul singer Thelma Houston. Both vocalists excel, complimenting each other's dramatic approach under an organ driven spell. 

The title track is light hearted, or as tongue-in-cheek as Moz can get. The striking sound is reminiscent of post-punk electronic bands,
Depeche Mode
more than his own glorious
Smiths
. Though it is an energetic outing, that at times sizzles with genius. The lyrical panache is on display in the Brit-Pop glaze of "What Kind of People Live in These Houses?" and further explored on "Knockabout World". Whereas the soulful "Darling, I Hug a Pillow" is a beautiful, melancholic piece of music that is loaded with uplifting instrumentation. 
The galloping synth of "Once I Saw the River Clean" is a standout as new wave meets the Stone Roses. Then comes a slight abstract weirdness with "The Truth About Ruth". With a bit of Tom Waits style bashing "The Secret of Music" is the boundary pushing delight we want from Morrissey in the 21st century. Closing with that classic sound on "My Hurling Days Are Over". I Am Not A Dog On A Chain is interesting, fascinating and at times brilliant.
But contradiction is the word which sums Moz best. Whether it's the far-right sympathizer who is the son of Irish immigrants. Or the stalwart for all things British that lambasts the Royal Family. Morrissey remains a paradox in modern music, who has now managed to pull something decent out of his creative bag when the idea seemed past him. Thankfully fans are the better for it, now the only hope is he drops the political meandering and sticks to knocking out albums such as this. 
Tracklist: 
1.Jim Jim Falls
2.Love Is on Its Way Out
3.Bobby, Don't You Think They Know?
4.I Am Not a Dog on a Chain
5.What Kind of People Live in These Houses?
6.Knockabout World
7.Darling, I Hug a Pillow
8.Once I Saw the River Clean
9.The Truth About Ruth
10.The Secret of Music
11.My Hurling Days Are Done
For More Info;
Website
Facebook