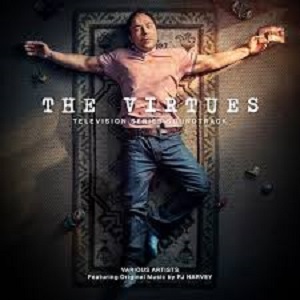 20 June 2019
Any new music by British alternative musician Polly Jean Harvey is always welcomed, even if it does come in the form of a soundtrack contribution.
In between following her last release The Hope Six Demolition Project (2016), and contributing music to another score, the stage production of All About Eve, audiences are given five new tracks plus the single "The Crowded Cell".
The music was created for the British Channel 4 produced series The Virtues, written by Shane Meadows (Boardwalk Empire) and Jack Thorne. Along with PJ Harvey there is also contributions from Irish songstress Lisa Hannigan, Aphex Twin, MONO and Set Fire to Flames. Though the focus of the set is really the contributions of Polly Jean who gives her own personal injection of sublime elegance to the affair.
Opening respectfully with the effervescent and atmospheric instrumental "The Prayer". The album shifts themes, between the childlike "The Lonely Wolf" with its menacing wave of noise which meshes itself dramatically into the track. "Submerge" opens with a minimalist drone before slowly launching, clocking in at a little over seven minutes, this track is relentlessly cinematic in structure. These are instrumentals that display a wide scope, as the latter segues into the electronic heartbeat of "Death" with a claustrophobic sense of hopelessness. "Subterranean" is another huge, assaulting epic that is executed stylishly and over its eleven-minutes, giving another view of the dynamics within Harvey's songwriting.
The flourish of ideas, showcase how Harvey has not lost any of her talent to create works of prodigious excellence. The single, "The Crowded Cell", harks back in structure to Polly Jean's old-school voice and electric guitar, brilliant, intense and emotionally hopeful in a bleak setting.
Track List:
1. Prayer – PJ Harvey (3:00)
2. When Sorrow Shoots Her Darts – Set Fire To Flames (3:11)
3. Jesus Song (Rival Consoles Rework) – Toydrum (6:46)
4. Beneath the Rose – Micah P. Hinson (2:56)
5. Submerge – PJ Harvey (7:13)
6. Death – PJ Harvey (1:45)
7. Flowers – Lisa Hannigan (4:35)
8. The Flames Beyond the Cold Mountain – Mono (13:29)
9. Gwely Mernans – Aphex Twin (5:08)
10. If the Truth Hurts (feat. Gavin Clark) – Ted Barnes (3:45)
11. The Lonely Wolf (Instrumental) – PJ Harvey (2:42)
12. Cutting Into Flesh – Gazelle Twin (3:28)
13. Subterranean – PJ Harvey (11:48)
14. The Crowded Cell – PJ Harvey (3:08)