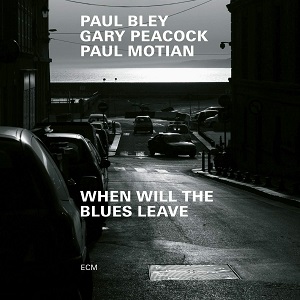 25 June 2019
Pianist Paul Bley, bassist Gary Peacock and drummer Paul Motian constituted a fearsome free jazz trio in the sixties, expanding on the fine work by Bley's former sideman Ornette Coleman and showing what a piano trio could do with the form. Despite the excitement and acclaim the band generated, it went strangely under-recorded. It wasn't until 1998, when the threesome reconvened at Peacock's urging, that they made a full-length studio album (Not One, Not Two) together. That LP would be their last, with Motian passing away in 2011 and Bley in 2016.That is (cue dramatic music), until now: recorded on the tour following Not One, Not Two, When Will the Blues Leave captures the trio live and, despite nearly three decades passing since they played together regularly, at the peak of their powers as a combo.
Wisely, the record kicks off with a statement of purpose. "Mazatlan," originally written and recorded by Bley in 1965, presents the three musicians doing what they do best: taking an accessible melody and using it as a launching pad for free improvisation. Motian doesn't play on the beat so much as kick it around like a can on the street, while Bley casually slips between tuneful ripples and discordant slashes at the keyboard. The voice of reason in this scenario, Peacock almost reluctantly keeps his fellows in check, as well as turning in a letter-perfect solo. The bassist gets his, though, with his own "Moor," which begins with a four-string intro and keeps Peacock on the front line, engaging in call-and-response with Bley while Motian skitters across his cymbals behind them. "Dialogue Amour" puts Bley and Peacock in even more direct conversation, the pair tumbling over each other as if neither can wait to get it out, while Motian acts as anchor. "Told You So," the album's tour-de-force, puts the spotlight squarely on Bley, as the pianist moves from nursery rhyme tease to bluesy riffing to classical virtuosity to free playing almost without the listener realizing it until right in the thick of it.
The band ends the program with a pair of covers. The title track comes from Ornette Coleman's catalog, performed at a hellbent-for-leather clip that lets each player shine, though the way Motian flips between bash-and-crash and relentless swing demands attention. The group concludes with a beautiful take on the Gershwin standard "I Loves You, Porgy" that demonstrates Bley's perfect touch on classic balladry. It's a beautiful recording of a clearly fantastic show, one that should put jazz fans in prayer that more concert recordings from this remarkable trio surface in the future.