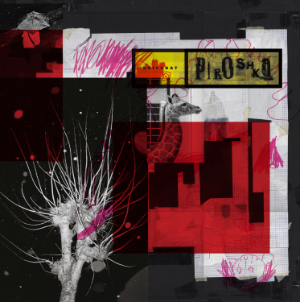 1 January 2019
Piroshka is a UK supergroup formed from members of Lush (Miki Berenyi), Moose (KJ "Moose" McKillop), Elastica (Justin Welch), and Mick Conroy (Modern English). For those expecting this new group to sound like any of those other groups, think again. These assembled talents have created a very pleasant indie pop record with elements of psych and post punk. If Yo La Tengo was British, they might sound like this. I say this because similar to the NJ stalwarts, Piroshka explores a myriad of musical styles on this debut release. Despite the overall pretty feel to this material, the subject matter is not happy. Serious subjects are explored under the gorgeous melodic veil that hangs over this release. As their press release reveals, the rather blunt, direct lyrics tap into the current fear and loathing at the heart of society and politics.
"This Must Be Bedlam" starts off with squeals of feedback and resolves to handclaps and what could be a harmonica. Guitars are shrouded in reverb and there are little vocal yelps that keep things interesting. "Village of the Damned" has a hazy psych pop feel and features prominent use of trumpet. It all works in their favor, and despite the dour lyrical outlook, the song is a definite favorite. I like the trippy elements, and the sultry, jazz overtones of the trumpet. If you aren't careful, you might miss the lyrical intent, which is about school shootings. "Never Enough" is an upbeat, likable tune that is space age electronica shot through with a good old retro 80s indie pop feel. Perhaps it is "Blameless" that most resembles the quieter moments in Lush's discography, but only superficially. I really enjoy the slower cadences with pretty backing vocals and the string arrangements.
"What's Next?" is melodic post punk and frankly, I hear a Chameleons influence deep in the musical weave. It is atmospheric and the style works well here. "Hated By The Powers That Be" is haunting and Miki's vocals sound so great over the crunchy guitars. Another winner! "Heartbeats" is orchestral dream pop about early closeness with a child and later sending them out into the world to find their own way. The first single "Everlastingly Yours" has a lot going for it, ranging from the spacey synths to Miki's winsome voice. The final track "She's Unreal" is busy with different elements, touches of trumpet, propulsive bass, psych elements, and mysterious keys. Overall, I really enjoyed this record, though I found it hard to review. It is hard to put a pin in something when it moves all over the place, and this one was a bit slippery. But they have pulled off something special, and it's well worth your hard earned dollars to pick up a copy.
Get your pre-order copy here on Bandcamp and catch up with the band on Facebook.