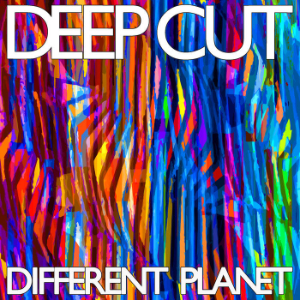 27 December 2018
Deep Cut is the UK-based psych pop collective comprised of guitarist/vocalist Mat Flint (Revolver, Death in Vegas), vocalist Emma Bailey (Mat's wife), Pad Bailey (guitar), Simon Flint on bass (Mat's brother), and Ian Button on drums (Death in Vegas, Papernut Cambridge). Different Planet is the group's third album (their first in seven years), and a fine one it is. The record was mixed and produced by Deep Cut and mastered by Karl Skivington (Spotlight Kid). The approach this time mixes in dance beats with trippy elements and features a more blended approach with respect to vocals. The Lush comparisons that used to dog Emma should evaporate upon listening to this record, and while there is nothing wrong with such a comparison, I am sure it gets old. In fact, on "Washed Up", besides the fantastic Byrdsian riffs, I am also reminded of the defunct (or long in hiatus) NY group Ivy.
Deep Cut fans may have to come to only expect shoegaze and dream pop, but the group takes a more nuanced approach on Different Planet, and there is a greater exploration of genres. Change in this case is a good thing. It means the band is growing stylistically and not just employing the same old riffs. Opening track "No" has lovely harmonies, and it could have been lifted straight from a late 60s West Coast rock record. The production is sterling and layered with goodness, and the vocals are right up front and not buried in the mix. I love when it shifts into high gear at the song's midpoint and morphs into a lilting masterpiece. And the drums, they are just perfect! "Still Counting" is a busy, fuzzed out gem of a tune, and moves easily into the aforementioned "Washed Up", which then flows into the shorter "Hanging Around". Emma takes center stage here with her sweet voice, always appreciated by this listener. There are some particularly good hooks here that will suck you straight in.
"Alarm Button" is droning psych offered as a slow jam, and sweetened with groovy riffs and pretty vocals. It has an air of familiarity, possibly because it reminds me of other Motorik songs. "Swimming Against the Tide" returns to swinging 60s vintage pop, and guitar and keyboards commingle with some pretty great vocal turns from Emma and Mat. "Spiralling" offers up some trippy beats and the mix of psych and dance is a winning combination. There is a lot going on here and it always stays intriguing. "The Last Goodbye" is one cool and catchy tune with some awesome guitar overlays. "Sharp Tongues" has tabla to add an exotic flair, and the drum work by Ian is stellar. I also like the spacey guitars punching through the mix. The final song is the title track, and it continues with the dazey, hazey love fest that percolates through this entire release. The bass is sinuous, and the guitars snake through and spin you 'round just as Emma's voice enters the picture. The couple's daughter Chloë contributes the Kaosillator, which appears midway through the song and employs all sorts of random sounds, and I wonder if R2D2 is in the room. All things considered, this is fantastic work from a band I greatly appreciate and I highly recommend picking up this release.
Pick up the album on the band's Bandcamp page and catch up with them over on Facebook.