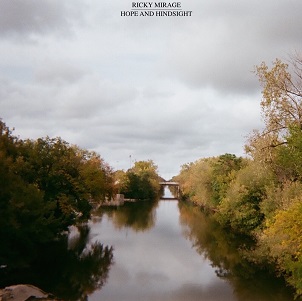 30 January 2020
The son of Chicago, Illinois, multi-instrumentalist Ricky Mirage released this Ep a while back, but it remains deserving of some attention. In truth the Ep Hope And Hindsight is a pretty decent listen. One which shows promise for Ricky as his style matures.
Kicking off with the blissful, acoustic power of "Way Out", all the factors hits you head on surrounding what this young man is capable of. His voice strains with emotion in front of a steady and uplifting beat. Following with the clean-picked electric ballad "Back To You". With a wonderful range on display through the chorus,  as he spills his heart out across the lyrics. A thing which becomes prevalent is his ability to write a good song, let alone project it. An obvious anchored influence of Big Star stands out, but also a cool injection of Americana is very much within the mix. 
The rocker "Kissing You" rolls along faultlessly, and gets the foot tapping in gear very quickly. Although this does not prepare you for "Snowman". An acoustic lush ballad which aches with emotional turmoil. This is the standout of the set, it highlights Ricky's ability to construct something that is both passionate, and  hopeful. 
Hope And Hindsight projects promise of what's to come from this effervescent artist. He certainly has the ability and the talent. Now we await his next move with intrigue. 
Tracklist:
1.Way Out 
2.Back To You 
3.Kissing You 
4.Snowman 
For More Info;
Bandcamp
Facebook