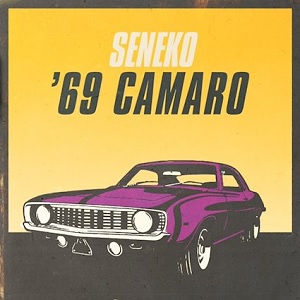 29 December 2021
Alt country/rock musician Seneko has returned with his fourth EP entitled '69 Camaro, and it is indicative of his ever evolving sound. Like the car of the title, the music here is sleek but raw, with a vintage feel and enough of a bite to constantly propel the EP forward. It's a lot bigger and harder than some of his previous releases, and the focus here is fully on the beauty of the guitar and its possibilities. Influences like The Jayhawks and Teenage Fanclub are strong here, but there are also touches of Neil Young, Bob Dylan, and even a little bit of Lou Reed.
The title track "'69 Camaro" would have sat comfortably on Bandwagonesque, and "No Goin' Back" has a wonderfully bouncy, indie punk spirit with Seneko singing with a sneering Dylan attitude. "For Her Love" is the most overtly country-tinged song here, and its purpose here is probably to best showcase how much heavier the other songs are. The guitars on the following track, the playful and witty "Crazy As She's Cute," are like a sonic wall in comparison, and the EP closer "Writing on the Wall" seems destined for an arena in an alternative universe.
After four EPs, it clearly seems like Seneko is building his music to something big, and a full-length album will undoubtedly deliver on the promise in this collection of his best songs yet.