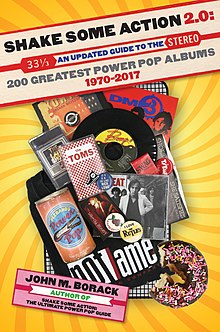 17 December 2018
An Updated Guide to the 200 Greatest Power Pop Albums 1970-2017
John M. Borack
www.popgeekheaven.com
John Borack wrote his first look at all things power pop, Shake Some Action in 2008, and it struck a chord, selling out 4 reprints. Well, it's ten years down the road, and Borack has updated his debut work with Shake Some Action 2.0: 200 Greatest Power Pop Albums 1970-2017 – and it's even more complete than before! At over 400 pages, fans of jangly guitars, skinny ties and all things pop will find so much to love here.
Borack knows his stuff, both as a fan and as a performer (he's the drummer for Popdudes, a pop cover band whose CD is included with the book), and his knowledge of this stuff is exhaustive. All of the big stars (HA!) of the genre are here- from Shoes and Redd Kross to The db's and Pezband, but it's the lesser acts where Borack's value shines. Now, I'd previously been unaware of artists such as The Nines from Canada, or The Who-ish sounds of Chopper, but thanks to this essential tome, I've got loads of new bands and sounds to check out.
Now, you might quibble with his rankings – I mean, the late, great Owsley all the way down at 136, but hey, write your own book, I guess. His write-ups of the acts here are solid, and most include fascinating quotes from the artists. Beyond that are a multitude of reviews, lists and whatnot that will enthrall devotees of this classic form of music. Fans will return to it again and again, and John Borack's labor of love will hopefully find new listeners for those unjustly overlooked acts contained within. Sorry, got to go and put on The Loud Family (#138) or maybe Alabama's The Lolas (#104)…such a delicious dilemma! Thanks John, and we'll be looking for volume 3 in 2028!