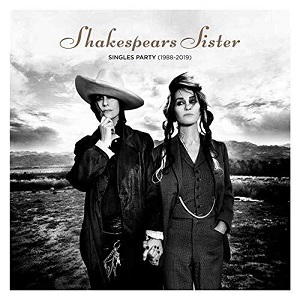 21 July 2019
It is a little over three decades since Siobhan Fahey went through a reinvention, shirking off the pop-group label, and forming Shakespears Sister. The real surge of brilliance however, began shortly after as Marcella Detroit was brought into the fold to expand the sound. Fahey transformed into a sultry, gothic chanteuse, backed by the operatic range of Detroit, a project nobody gambled would still hold such buoyant magic after the passing of time.
Whilst still releasing albums as the name skimmed under the surface of the musical landscape, a release such as Singles Party (1988-2019) is welcomed with open arms, and dark eyeliner. A reminder of how unlikely chemistry can result in works of impressive sound. That is the core of Shakespears Sister, the cross pollination of blissful pop, charged with an alternative edge that appeals to lovers across genres.
Here however, their back catalogue is ventured into with care. From that thirty year old release Sacred Heart right up to the covers album from 2012 Cosmic Dancer, and of course the delayed comeback #3. All the classic and essential ingredients are firing, from the mega hit "Stay" to lesser known gems such as "Pulsatron". Of the eighteen tracks on offer, there are some breathtaking standouts, such as the acoustic version of the aforementioned "Stay". To these ears it outweighs the standard we know and is beautifully delivered, worth the admission price alone to hear this one track.
After not working together since 1993, thankfully both Fahey and Detroit have placed their differences in the past and are pushing forward as a unit with a unique freshness to their creativity. As with most compilation releases, and even reunions, there is the inclusion of new material, and here is the showcase of the original Shakespears Sister in the 21st century. Two tracks, and video releases (Included below) have dropped. The country-rock splendor of "All The Queen's Horses", and the double entendre playfully blues-rooted , "C U Next Tuesday". Both interesting pieces of work and perhaps the best music produced since the outfit became a solo act post Hormonally Yours.
There is no denying the best work of Shakespears Sister includes both ladies, this compilation helps piece together both shades of the band with and without the involvement of Marcella Detroit. Hopefully however, this is the duo in the starting blocks for the second half of their career, if the new material is anything to go by there is a lot to get excited about. And Singles Party (1988-2019) acts as a forging together of the past and a glimpse into a bright future.
CD Version
1. Break My Heart (Remastered)
2. Heroine (Remastered)
3. You're History (Remastered)
4. Run Silent (Remastered)
5. Dirty Mind (Remastered)
6. Stay (Remastered)
7. I Don't Care (Remastered)
8. Goodbye Cruel World (Remastered)
9. Hello (Turn Your Radio On) (Remastered)
10. My 16th Apology (Remastered)
11. I Can Drive (Remastered)
12. Bitter Pill (Remastered)
13. Pulsatron (Remastered)
14. Bad Blood (Remastered)
15. It's a Trip (Remastered)
16. All The Queen's Horses
17. C U Next Tuesday
18. Stay [Acoustic Version] (Remastered)
CD 2 (Deluxe Version)
1. Cat Worship
2. You're History [Catz 'n Dogz Remix]
3. You Made Me Come to This [HMD Pulsatron Mix]
4. Pretty Boy (Remastered)
5. Mr Wrong (Remastered)
6. Remember My Name (Remastered)
7. Do I Scare You? (Remastered)
8. Excuse Me John (Remastered)
9. Singles Party (Remastered)
10. Heroine [Heavenly Mix] (Remastered)
11. Black Sky [The Black Dub] (Remastered)
12. Break My Heart [Shep Pettibone Dub] (Remastered)
13. Goodbye Cruel World [BTO Remix] (Remastered)
14. You're History [Brothers In Rhythm Remix] (Remastered)