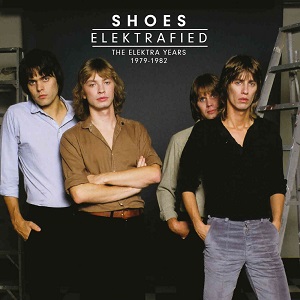 12 March 2020
This is a long overdue celebration of the power pop legends Shoes. Held in the same light as Big Star and The Raspberries, this outfit has become a cult, critical success from the early seventies onwards. Hailing from Illinois, Shoes were formed by brothers Jeff and John Murphy, along with high school friend Gary Klebe. The band were unique in forming their own label, Black Vinyl Records. After a slew of albums privately released between 1974 to 1977, the band signed to a major label. That being the legendary Elektra records, home to the Doors, Love, and the Stooges. And that brings us on nicely to the importance of this release from Cherry Red Records. 
 
Due on March 27,
Elektrafied- The Elektra Years 1979-1982
brings together the three albums recorded for Elektra plus a disc of raw and ready demos. The three albums are represented respectively on the first three discs.
Present Tense
,
Tongue Twister
and
Boomerang
are complete and remastered, sounding as fresh and bombastic as ever. Each expanded with eight-track demo versions, similar to myself, audiences will find these raw romping run-throughs do sound as quintessential as what appears on the finished work. The final inclusion, and prized piece is the fourth disc, the
Rarities
album. This features alternate versions and a handful of live tracks, intensifying the quality and downright bang for your buck. 
This is an engaging set of tracks, showcasing a legendary outfit in their prime, and firing on all cylinders. Although not climbing to the summit of fame and global adoration they rightly deserved, which is the perplexing thought on playback here. Their spell with Elektra did expand their audience,  and set them up for the
MTV
eighties spotlight. For now however, fans and adventure seekers can bask in their perfect power pop once more. 
Tracklist;
Disc One:
PRESENT TENSE
1. TOMORROW NIGHT
2. TOO LATE
3. HANGIN' AROUND WITH YOU
4. YOUR VERY EYES
5. IN MY ARMS AGAIN
6. SOMEBODY HAS WHAT I HAD
7. NOW AND THEN
8. EVERY GIRL
9. I DON'T MISS YOU
10. CRUEL YOU
11. THREE TIMES: SEE ME/SAY IT/LISTEN
12. I DON'T WANNA HEAR IT
BONUS TRACKS
PRESENT TENSE 8-TRACK HOME DEMO VERSIONS
13. TOMORROW NIGHT
14. TOO LATE
15. HANGIN' AROUND WITH YOU
16. YOUR VERY EYES
17. IN MY ARMS AGAIN
18. SOMEBODY HAS WHAT I HAD
19. NOW AND THEN
20. EVERY GIRL
21. I DON'T MISS YOU
22. CRUEL YOU
23. THREE TIMES: SEE ME/SAY IT/LISTEN
24. I DON'T WANNA HEAR IT
1-12 The album Present Tense, Elektra 6E-
244, released September 1979
13-24 Demo versions of Present Tense,
unreleased at the time
Disc Two:
TONGUE TWISTER
1. YOUR IMAGINATION
2. BURNED OUT LOVE
3. THE THINGS YOU DO
4. ONLY IN MY SLEEP
5. KAREN
6. SHE SATISFIES
7. GIRLS OF TODAY
8. HOPIN' SHE'S THE ONE
9. WHEN IT HITS
10. YES OR NO
11. FOUND A GIRL
12. HATE TO RUN
BONUS TRACKS
TONGUE TWISTER 8-TRACK HOME DEMO VERSIONS
13. TIME TO MAKE IT
14. BURNED OUT LOVE
15. THE THINGS YOU DO
16. ONLY IN MY SLEEP
17. KAREN
18. SHE SATISFIES
19. GIRLS OF TODAY
20. HOPIN' SHE'S THE ONE
21. WHEN IT HITS
22. YES OR NO
23. FOUND A GIRL
24. HATE TO RUN
1-12 The album Tongue Twister, Elektra 6E-
303, released January 1981
13-24 Demo versions of Tongue Twister,
unreleased at the time
Disc Three:
BOOMERANG
1. IN HER SHADOW
2. CURIOSITY
3. MAYDAY
4. TOO SOON
5. DOUBLE TALK
6. THE SUMMER RAIN
7. UNDER THE GUN
8. THE TUBE
9. WHAT LOVE MEANS
10. BOUND TO BE A REASON
11. SHAKE IT AWAY
12. TESTED CHARMS
BONUS TRACKS
BOOMERANG 8-TRACK DEMO VERSIONS
13. IN HER SHADOW (DEMO VERSION 2)
14. CURIOSITY
15. MAYDAY
16. TOO SOON
17. DOUBLE TALK
18. THE SUMMER RAIN
19. UNDER THE GUN
20. WHAT LOVE MEANS
21. THE TUBE
22. BOUND TO BE A REASON
23. SHAKE IT AWAY
24. TESTED CHARMS
1-12 The album Boomerang, Elektra 9
60146-1, released August 1982
13-24 Demo versions of Boomerang,
unreleased at the time
Disc Four:
RARITIES
1. JET SET (MANOR VERSION)
2. EVER AGAIN
3. TAKE YOU AWAY (DEMO VERSION 1)
4. SEE ME (1ST DEMO)
5. JET SET (DEMO VERSION 1)
6. IN HER SHADOW (DEMO VERSION 1)
7. A VOICE INSIDE ME (DEMO VERSION 1)
8. TAKE YOU AWAY (DEMO VERSION 2)
9. KAREN (ACOUSTIC DEMO)
10. JET SET (DEMO VERSION 2)
11. A VOICE INSIDE ME (DEMO VERSION 2)
12. I WANNA GIVE IT TO YOU
BONUS TRACKS
SHOES ON ICE (LIVE)
13. TOO LATE
14. HANGIN' AROUND WITH YOU
15. CRUEL YOU
16. IN MY ARMS AGAIN
17. SHE SATISFIES
18. HATE TO RUN
For more info and to pre-order;
Website
Facebook
Twitter