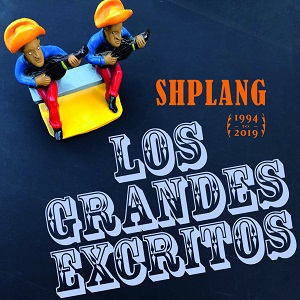 27 December 2019
A treat for power-pop-aholics to bathe in, and one which provides a definitive view into the magnificence that is Shplang. Twenty-five years after their initial incarnation, when Peter Marston met with John Krause. From the first guitar chug of the debut Journey to the Center of Mirth it became a clear statement of the talent within the outfit. Stretching their sound by adding drummer Brian Cannizzaro as they headed into their sophomore release Self Made Monk. Shplang from this point on, have made their mark as a tour-de-force in the genre of power pop, galvanized by the further releases of American Cream and My Big Three Wheeler .
What Shplang have always offered audiences is passion, an edge of experimentation within their expressionism, and honesty without pretentious overtones. Spread over seventeen-tracks, clocking in attention grabbing forty-three minutes Los Grandes Excritos sizzles with emphatic energy, this is the cream of Shplang. With a slick romanticism throughout, an air of influence comes through with thoughts of Prefab Sprout nestled in the Californian climate. The engine opens up in top gear with "Spanish Galleons", as if the sunshine oozes from the disc when the laser engages. 

Between deep-cuts going back to the early days the albums are represented faithfully. The 1997 release, the applauded
Self Made Monk
gets a decent selection, with "Come Love", "I Don't Know, I Don't Care" and the melancholic "Sucker". A track which remains joyous within a depth of pain. The suave whispering is a rare touch of class within modern music. Whereas 2000's
American Cream
is represented equally strong "I Don't Know Love", "Birds Go 'Round" and closing out the set with the incendiary "Holy Roman Empire". 
The most recent, 2009's
Big Three Wheeler
gets a justified space with "Spanish Galleons", "Tokyo Go-Go", "That Word Is Love", and "No One Knows". Of those, "Tokyo Go-Go" is the more experimental, as it jangles against a spoken word verse. The deep cuts are astounding, such as the
Beatles
meets
Serge Gainsbourg
sounding "Delacroix". Against the brilliancy of "Little Star", which is an uplifting slice of magic that is as addictive as it is timeless. 
This album, stated as the great work of Shplang, does not disappoint, it is a remarkable collection. If not a doorway for the curious to this incredible band. The only quibble may be the need for live tracks. To hear these songs presented on stage. Other than that, it is the perfect tune in-drop out musical scenario. 
TRACK LIST:
1. Spanish Galleons
2. Come Love 
3. I Don't Know I Don't Care 
4. Sucker 
5. I Don't Know Love 
6. Delacroix 
7. Little Star 
8. No One Knows 
9. Another Child Lost 
10. That Word Is Love 
11. Tokyo Go-Go 
12. Birds Go 'Round 
13. Sway 
14. Mommie's Pie 
15. (Silence)    
16.Buenos Tardes Con Celina 
17.Holy Roman Empire