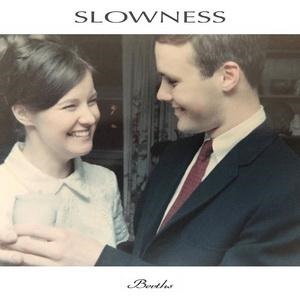 13 June 2019
A mix of California cool and New York grit comes to fruition in the assaulting Kaleidoscope of noise which is at the core of the band Slowness.
Indeed, the showcase of talent the trio has on offer is both respectable and well executed. Following on from their acclaimed 2014 release How to Keep from Falling off a Mountain, they release a new album of equal strength in Berths. Preceded by two singles, "Berlin" and "Rose", an insight was clearly given as to the direction and dream-like shoegaze adventures that lay ahead.
Only eleven years into their lifespan, Julie Lynn, Geoffrey Scott and Christy Davis present a fully formed work of six mesmerizing tracks, a soundtrack for our times. Berths opens with the noise-generating guitars of "The Fall". A buzzing drone, until the clean picked melodies merge with the wall of beehive noise. A hybrid of sound, My Bloody Valentine meets a sixties, Californian submergence.
The single release "Rose" loses the quake of the distortion, though riff heavy and bass heavy, the vocals are hypnotic, drawing the listener in and stopping the world from turning as it glazes with melodies. "Berlin" follows the same pattern as "Rose", here though Slowness become even more dramatic and intense but yet wrapped in a dark Joy which gives their sound that extra, addictive edge,
"Breathe" kicks off as Berths opened, the battery of Davis' drums leading the charge before weaving into a psychedelic finery. "Sand & Stone" is one of the standouts, planted in an alternative world where Neil Young dwells, an echo of mid-seventies proto-grunge, updated with the shimmer of 21st century technology.
Closing out with "Asunder" and the chiming of guitars against a distorted landscape, an ebb and flow of excitement encapsulates this album. The track staggers along with a chilled out urgency, very difficult to pin down with the different styles densely sewn together within the mix. Indeed producer Monte Vallier (Wax Idols, The Soft Moon) did sterling work in homing the best elements of this band in the studio. He also engineered the b-side, whilst Dave Voigt (John Cale, Alex Chilton) engineered the first. Strangely however, two different engineers does not disrupt the flow of music thankfully.
Berths is a solid release, the years Slowness have left between albums certainly has done justice to their overall sound. Though the release is short at only six-tracks, it is worth noting that nothing on the album is less than five-minutes in length, so there is plenty to enjoy here.
ALBUM CREDITS
Written by Julie Lynn and Geoffrey Scott
Lyrics by Geoffrey Scott
Geoffrey Scott – vocals, guitar and keys
Julie Lynn – vocals, bass and keys
Christy Davis – drums and additional vocals
Produced by Monte Vallier
Mastered by Carl Saff
Side A engineered by Dave Voigt at Beyond Notes Studio in Brooklyn
Side B engineered by Monte Vallier at Ruminator Audio in San Francisco
TRACK LIST
1. The Fall
2. Rose
3. Berlin
4. Breathe
5. Sand & Stone
6. Asunder
For More Information On Slowness;
Website
Facebook