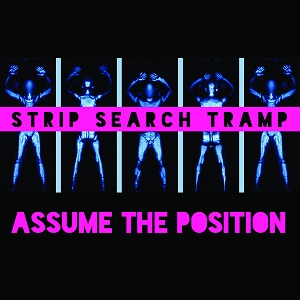 1 August 2019
Sometimes audiences crave a sound, and search for excitement away from the monotony of those dull-airwave jingles that pass as music. Once in a while, however, the sound you seek finds you, and thankfully outfits like this UK based band appear on your horizon as they become the talk of the stratosphere.
Strip Search Tramp are a five-piece collective who are intent on branding your brain with their unique punk inspired manifesto. Think Hawkwind meets The Damned in a Bladerunner setting, without any of those annoying and pretentious cliches. Their sound is noise rock, music that moves our very emotional angst, a soundtrack to these decaying times, realistically these guys are the business. So strap in because the Assume The Position Ep contains four-tracks which are something to get excited about, and hopefully a taster of what's to come.
The DIY ethic to the recording acts very much in favor of Strip Search Tramp, they have compounded more passionate carnage into this Ep than most of the music hierarchy manage on a full long-player. Opening with the weaponized "Yakuza", an industrial-equated doomed atmosphere before the punk lashes into the frame. Vocalist Tracey Skarzynska is a sultry, feminine Nick Cave, alluring with rage. An evenly balanced display of old-school artistic-fury versus 21st century technology: "..kiss the fist, kiss your sister..".
With some tasty samples and addictive guitar cranks, "Escalator" opens up with a switch in singers, but no holding back in intensity. "She Devil She Machine" has the snarl of X-Ray Spex with a twist of The Cramps
Closing out the short set "Dahmer Karma", the urgency and metallic sound is crackling with enthusiasm. The conviction in the voice of Skarzynska makes this the enjoyable affair backed by the wall of ambient noise, and savage guitar sounds.
This assaulting revolution is carried out by a cast of players who have taken part in more than just this rodeo. Aforementioned vocalist Tracey Skarzynska (ex-*Army Of Skanks*), Mr Dibs (ex Hawkwind), Shrew (Dead Babies), Sharif and Anwar (ex Annex UK). All with credentials, so hopefully this is the first step in a long provocative adventure.
Track List;
1.Yakuza 05:14
2.Escalator 02:53
3.She Devil She Machine 05:34
4.Dahmer Karma 03:19