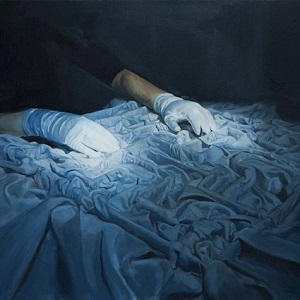 24 December 2021
Tawni Bias is the solo project of Calgary musician TJ Elkin, and his new experimental album SEL Fellow was recorded in his basement building up layer upon layer, sample upon sample. At its core the album is a collection of melancholy folk songs, but floating around that are so many layers of reverb, echo, swirling voices, and ethereal keys that the songs are transformed into something hazy and dream-like, verging on drone. Like the work of Arthur Russell, there's are stunning pop melodies buried deep underneath, but the listener will be rewarded for digging deep to find them.
Every song begins with uncertainty, scattered bits of disembodied voices or strings warming up, until, like clawing out of the darkness into the light, the track gradually takes shape and grows into something with a profound resonance. "Two Poodles One Cake" rises gradually with a triumphant attitude until it dissolves suddenly again at the end and falls through your fingers like sand. Some of the best tracks are those with the loosest structures, and "Cardamom" might as well have been the artist setting up multiple radios in the same room tuned to different stations that somehow find beautiful harmony.
It might be some time and many repeated listens before the totality of SEL Fellow's mysteries and beauty truly reveal themselves to this listener, but Tawni Bias is clearly a name that holds a ton of promise for the future.