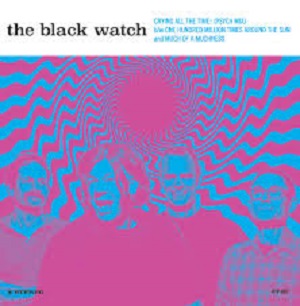 9 September 2019
So far 2019 is both a milestone and a busy year for John Andrew Fredrick and The Black Watch. Already both fans and audiences have received a new long-player in Magic Johnson, the run of compilations in The Completed Works: 1988-2019, 31 Years of Obscurity: The Best of The Black Watch: 1988-2019. Basically everything you ever wanted by this fabulous band is now fully available. Continuing on with that momentum is news of Brilliant Failures, a brand-new album due in the not so distant future. 
A bit closer in October comes the "Crying All The Time!" Ep, a limited seven-inch vinyl containing the title track and two more effervescent numbers, "One Hundred Million Times Around The Sun" and "Much Of A Muchness" (Included Below). These three tracks are a further burst of energy, soaked in the Santa Barbara sun, and anchored in the alternative post-punk of the eighties. It is shoegaze with a tan, managing to balance a vibe of psychedelic guitar strokes with the right amount of distortion. In some ways an introduction to what fans can expect from their future work. 
To execute fuzz-drenched soundscapes and melodic hooks is no easy task, John Andrew has that apparent feat nailed making it appear easy. That has always been the sublime quality of Black Watch, to defy a single genre or remain within the confines of a particular sound. It can be viewed as fearless, although apparent at the core is talent. The 'psych mix' of the title track is a more straightforward rocker, with shimmering guitars that chip away into the dreamy track creating a toe tapping splendor. "Much Of A Muchness" moves with a solid urgency, turning like the wheels of a machine with a guitar solo straight out of The Beatles Revolver. John's voice sounding on a midpoint between Nick Drake and Billy Joe Armstrong, wholly nostalgic with a delivery that is direct with an in-your-face awesomeness. 
Another strong release from The Black Watch points firmly in the direction of more killer music, the "Crying All The Time" Ep is not by any means a stop gap between releases, it is simply an extension of their prowess and an example of how John Andrew Fredrick refuses to sit back on past glories. 
Tracklist;
A Crying All The Time! (Psych Mix)
B1 One Hundred Million Times Around The Sun
B2 Much Of A Muchness
The 7″ EP is out October 11. 
To Pre-Order
Website
Facebook