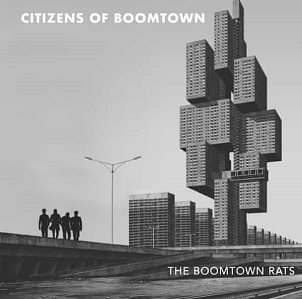 14 March 2020
You wait a whopping thirty-six years for a new album by the legendary Boomtown Rats, you are left feeling bewildered, and asking what was the point of this? 
In truth Citizens Of Boomtown is the sound of throwing everything at a spark, and hoping it catches fire into something magnificent. Unfortunately it becomes uneven, with shades of greatness muddled between pointless meandering. As a fan of the Rats from old, and still holding Tonic For The Troops on a pedestal along with Stiff Little Fingers Inflammable Material . Unfortunately there is very little to like here, and original fans may feel short changed. 
That said, the crux of the issues that Citizens Of Boomtown has is easy to understand, as two words point to the cause of this lacklustre work – Johnny Fingers. The pianist whos flourishes of melody lent so much depth to their work, is no longer a part of the band. His keys set the tone beautifully of their number one hit "I Don't Like Mondays". That song being a point of contention as Fingers only last year received his writing credit and royalties from Sir Bob. With that in mind, that integral part of the group is missing and so not as cohesive as what you would expect. 
The album itself is hard work, from the outset "Trash Glam Baby" is shouted nod to days of old, but heavy on distortion, it does set a scene of positivity. Further down this garage rock is again revisited on "Rock 'n' Roll Yé Yé". Which both are edgy, containing that edge of danger.
But that is not an edge that continues through the rest of the album. "Sweet Thing" starts well, with a Brit-Pop sound and momentum but the over-produced chorus kills the simplicity of what should have been a killer track. Where as the stutter and start of the harmonica driven "Monster Monkeys" sounds, well ridiculous. An experiment to bring the Rats into the 21st century that falls flat on its pretentious face. 
With further uneven follies such as the bizarre "K.I.S.S", which includes rapping verses, in between drowned out lyrics, and oddly placed guitar riffs. Same as the trance music orientated "Get A Grip", which is simply a stretch too far. And that is the problem here. Because even the acoustic driven piece of brilliance "Here's A Postcard", loses its initial impact of heartfelt angst by what comes after. Releases such as this can ruin a legacy, hopefully that's not the case here, and the band reconvene to continue forward. 
Tracklist: 
Trash Glam Baby   
Sweet Thing   
Monster Monkeys   
She Said No   
Passing Through   
Here's A Postcard   
K.I.S.S.   
Rock 'n' Roll Yé Yé   
Get A Grip   
The Boomtown Rats