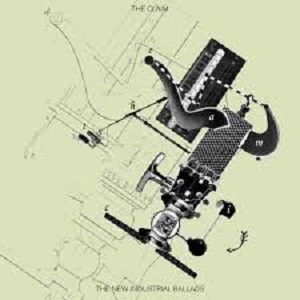 14 June 2019
After a gap of almost twenty-seven years, British band The Claim release a new album of socially conscious tracks, infused with the catchy rhythms and poetically inspired lyrics that made this band a catalyst for the Brit-Pop era. The new album, The New Industrial Ballads is a telling tale of a country in a time of change and upheaval, a fully realized exercise in showing how The Claim are still instrumental in the cultural atmosphere of the 21st century.
The Claim are David Read (vocals/guitar/keyboards), David Arnold (guitar),Stuart Ellis (bass), and Martin Bishop (drums). As a band they have already come back into focus this year with a re-release of 1988's seminal Boomy Tella album. An album which outlined the times, with a sound midway, and rightly so between The Smiths and Blur. But that is purely nostalgic as their latest is a more mature and refined sound, like a good wine The Claim has aged to perfection.
The New Industrial Ballads begins with a flourish of acoustic guitars in the instrumental "Johnny Kidd's Right Hand Man". Whilst folk-driven in nature, it is simply bound to a more realistic world. With the every present nature of nostalgia hooked in by a melody of a reminiscent time. That flips on its head as the lead single "Journey", a dramatic and intense delivered call to arms "I will stand and fight for what I know is right". At times slipping again into The Smiths territory under the spell of political struggles, but wholly firing on their own unique cylinders. "Smoke And Screens" is a beautiful serenade minus the fairy tale ending, again an acoustic wall backdrops the scene.
Further, into the albums landscape of 14-tracks, "The Haunted Pub" with a nineties thumping sound of piano, a lesson in how heartbreakingly absent this band have been. The soulful realist vocals of David Read are powerfully infections, with a lyrical frame which only he can make work. "Light Bending" is straight out of the swinging-sixties, a song the Davies brothers (The Kinks) could have included in their post 1966 albums. Whereas "Hercules* is an up to date cracker with a heavy-bass drive and the right amount of guitar-clanging. It is of note how fresh (young) The Claim sound, a band full of ideas who have no problem meshing their emotions into their sound.
"When The Morning Comes" is perhaps one of the many standouts, with a clever spoken refrain to add an extra dimension of tension to the dynamics and the themes of hope. Another instrumental with the abstract "Gamma Rays" before the band transcend again with "Just Too Far". "Mrs. Jones" is a slow tempo telling of again hopeful attitudes, another piano laden track which heralds the arrival of a glorious harmonica.
Overall this is an insightful and enjoyable listen. With such a variety of music on offer, very little filler if any, with a sound which has one foot in the past, and one placed firmly in the present. The New Industrial Ballads was worth waiting for, an album which sits nicely beside their previous two releases. Hopefully the wait will not be as long for further albums of strength from this reignited outfit.
TRACK LIST
1. Johnny Kidd's Right Hand Man
2. Journey
3. Smoke And Screens
4. The Haunted Pub
5. Light Bending
6. Hercules
7. When The Morning Comes
8. Music/Pictures
9. Gamma Rays
10. Just Too Far
11. Mrs. Jones
12. Estuary Greens & Blues
13. 30 Years (featuring Vic Templar)
14. Under Canvas