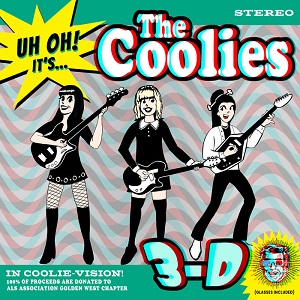 10 October 2019
The Coolies, the explosive three-piece consisting of Melanie Vammen (The Pandoras, The Muffs), Palmyra Delran (The Figgs) and the recently departed Kim Shattuck have announced a third pressing of their debut benefit EP, Uh Oh! It's… The Coolies . In the best way possible this release not only pays tribute to the late Shattuck but also continues the charity work which the release represents. The remaining band, along with their label Wicked Cool Records, are continuing to donate 100% of the proceeds from the record sales to support research for The ALS Association. 
The tragedy of Kim Shattuck is still very raw in the music world, who died of complications from amyotrophic lateral sclerosis (ALS) on October 2nd. While the first two pressings of Uh Oh! It's… The Coolies released earlier this year, were sold on ten-inch green vinyl, this third comes in red. And has now become available for preorder, although with those earlier pressings Shattuck took the step of not revealing her own illness, as it was already prevalent on her father's side. Instead, using that as a reason for this charity release and the reason to form a supercharged supergroup. In a way the music is always the best form of tribute, a reminder of how the woman Kim Shattuck should not be defined by the condition that took her life, but rather the noise-art she created. 
In truth, these six tracks blister with some of her finest work, acting as short, sharp ,shocks of distorted power, driven by an all-female war machine. A Ramones idealism clashing with a cause and the emotional fired passion of all three members. Opening with the garage-rock splendor of "Uh Oh!", moving with a detonation of alternative joy with "Ignoramus", the six strong set is unrelenting. With no subtlety, the songs are aimed straight at the head, even the softer "Pathetica" has an edge of menace with the delivery. The highlight is "Blueberry Crumble", with the added theramin courtesy of label owner and E-Street maestro Stevie Van Zandt. Closing out the set with more garage rhythms with "Yeah I Don't Know", an ending like the life of the lady, comes far too soon. 
Whether there is more of The Coolies to come is doubtful, but it is a solid release that deserves investing in, if not for the charity aspect alone. Kim Shattuck will be remembered for a lot of things, and a lot of music through all the various projects she lent a dimension to. But, this act of releasing a non-profit Ep in a time when artists struggle, shows the unselfish nature she possessed beneath the wild exterior. The actual reality of the tribute here is keeping her wishes and her humanity alive. 
The Coolies; 
Kim Shattuck – Vocals, Guitar, Bass, Harmonica
Palmyra Delran – Vocals, Guitar, Drums, Sitar
Melanie Vammen – Bass, Guitar, Organ, Vocals
Tracklist; 
Side 1
1. Uh Oh!
(Kim Shattuck)
2. Ignoramus
(Kim Shattuck, Melanie Vammen)
3. Pathetica
(Kim Shattuck)
Side 2
1. Blueberry Crumble
(Kim Shattuck, Palmyra Delran)
2. Glad I Met You
(Kim Shattuck)
3. Yeah I Don't Know
(Kim Shattuck)
To Pre-Order+Donate: 
Bandcamp
Facebook