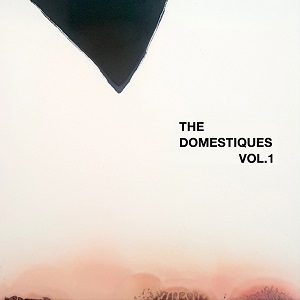 4 March 2020
Domestiques are, for want of a better word, is noise art. The project curated by Glasgow's Kevin McCarvel (Smoke Jaguar) and Andrew Paine, have dived into experimental waters and surfaced with a very interesting piece of work. Due for release on March 6th, The Domestiques Vol.1 is Metal Machine Music for the millennial generation. An album that holds melodic nuances intertwined within a juggernaut of distortion. 
The Domestiques Vol.1  opens with a full sensory assault with "Remissa". An instrumental staggering across the airwaves. The talent of McCarvel and Paine is showcased in how they manage to keep the sound moving forward, not veering off the tracks into complete feedback. Instead it pulses with life, roaring with Indian influences, and of course a subtle, melodic soundscape. 
"Bare, Marked Bodies" continues the thread, with a more industrial sound, drenched with noise and moving with a solid beat. At times the crunching becomes overpowering, only to be pulled back in before crossing into the territory of despair. The drone ambience of "Mannequin Love" is eerie, unsettling but brilliant in its conceptual construction. Steering itself into your brain, uncomfortable and addictive in the same breath. 
"According To His Circuits" begins in a place familiar to lovers of Kraftwerk. An electronic magnificence that takes a back seat to a bass line that tempts the listener further into the track. A definite stand out, "According To His Circuits" throws a lot of dynamics into the mix that collide beautifully. The walking bass riff gives way to further soaring feedback. The rolling machinery of "Unto The North" takes the sound further into piercing screeches, creating a collage of themes bombarding off one another in a world of oblique ideas.
The closing "Winter Divides", is a restraining closer. Held together by a heart beat of electronica. As it unfolds,  the thud moves forward into a serene atmosphere. This is definitely a piece of work for lovers of boundary pushing sounds by Brian Eno, Lou Reed and La Monte Young. It is a soundtrack to these modern times, chaotic and executed with precision. Certainly one of the most interesting upcoming releases that mixes improvisation with sonic textures, and a very cool avant-garde that is relentless across the albums six tracks. 
Track List;    
1.Remissa    
2.Bare, Marked Bodies
3.Mannequin Love
4.According To His Circuits
5.Unto The North
6.Winter Divides
For more info, and to pre-order;
Bandcamp
Facebook