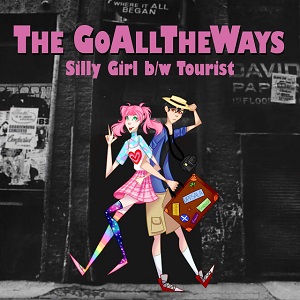 11 October 2019
Power pop, the subgenre hybrid of garage rock meeting melodic hard rock gets a proper celebration on the "Silly Girl", a single by supergroup The GoAllTheWays. The outfit consisting of Jeff Whalen (Tsar, The Brothers Steve), Rex Broome (The Armoires), Tyson Cornell (Rare Bird Lit), Marko DeSantis (Sugarcult), and Steve Coulter (aka S.W. Lauden) have taken on the classic by The Descendents along with "Tourist" by The Pink Lincolns. But that is only half the story, and this is where things get really interesting, and even more fascinating.
This slice of brilliance is released today (October 11) via Big Stir Records, a piece of art to highlight another vehicle of art, the book Go All The Way: A Literary Appreciation of Power Pop released via Rare Bird Books. The single acts as a musical preface to this dynamite piece of literature, which does exactly as the title suggests and tracks the rise of power pop with the bands that fueled the melodic, guitar driven zeitgeist. 
The single itself- "Silly Girl" fires on all cylinders, lovingly reconstructed, keeping the original bite in place and adding an extra sneer to proceedings. With the jangle of addictive guitars the urgency with which fires forth is a tribute to all the bands who injected grace into the era. The Pink Lincolns "Tourist" is such a solid, passionately delivered piece it takes on the shape of an original outing, leading to an initial dive into further releases by The Lincolns. In truth this release is a gauntlet of excellence thrown down by a makeshift band who not only manage to highlight the joyous sound of the power pop movement but do it with an infectious style. 
For More Info on the single;
Facebook
Website
For More Info on the Go All The Way Book;
Facebook
Website